One last clunking pull on the starter cord makes it clear that the sled won't be ferrying us home. It's nearly dark, we're eight miles (and one Continental Divide crossing) from the car, and our packs are already feeling leaden. But at Hellroaring, a backcountry ski hut in the remote Centennial Mountains near Island Park, Idaho, getting there—and getting home—is just part of the adventure.

Bordered by the Beaverhead National Forest to the north and Targhee National Forest to the south, the Centennials are isolated by topography and uninterrupted by development. It's an easy two-hour drive to the trailhead from Bozeman, but reaching the hut requires an additional eight-and-a-half mile snowmobile shuttle, followed by a three-and-a-half-mile, 1,500-vertical-foot skin. It's well worth the effort: 10,000-foot peaks, deep powder, and a solitary backcountry ski hut make these geographically unique mountains a skier's paradise.

The group—photographers Simon Peterson and Peter Ponca, Outside Bozeman publisher Mike England, myself, and Hellroaring owner/operator/guide Tim Bennett—first assembled at a corral where the road ended. After introductions, Bennett fired up two rough-looking sleds and let them idle as we divvied up supplies. We buzzed out of the corral minutes later under snowy January skies, towing a sledge of packs and skis.

The snowmobile trail wound through cattle guards and past seasonal homes boarded up for the winter. As we began to climb, the trail narrowed and twisted through stands of aspen before crossing 7,120-foot Red Rock Pass and the Continental Divide into Alaska Basin. Below us, the wide, desolate plain stretched for miles, framed by the abrupt rise of the Centennial Range on the left. "You can ride a snow machine 60, 100 miles from here," Bennett said, opening a barbed-wire gate, "it's a big place." We parked the sleds at the treeline. It was time to ski.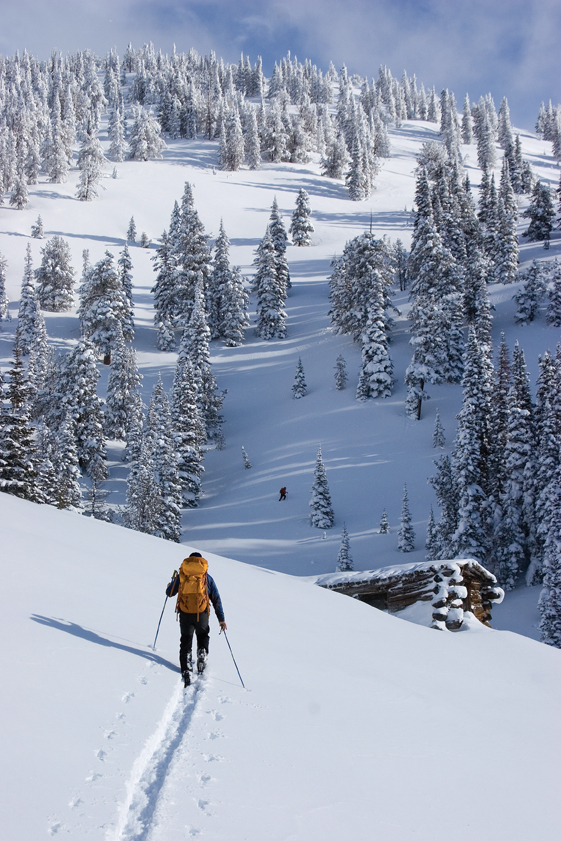 Bennett is well suited to these mountains, where people are few and wilderness is ubiquitous. And that's no mistake, because when Bennett isn't tracking up Centennial powder, he's tracking down wolverines and bears as a wildlife biologist. Tall and lean, with a blonde pony tail and a trimmed goatee, he's outgoing and abrasive, never hesitating to speak his mind. He's a California surfer turned Montana tele skier, a wilderness advocate who sleeps with a handgun, a scientist who shoots whiskey. Bennett's a difficult man to peg.

Climbing along Hellroaring Creek, he told us about cutthroat trout in the snow-free pools, he told us about wolverines—their snowshoelike paws are twice as large as their heads—and he told us about the mountains. "Up there," he said, pointing to a steep, wind-loaded, west-facing chute, "there was an avalanche crown four feet deep last week."

Avalanches are a very real danger at any backcountry hut, and Hellroaring is no exception. In January 2001, a slide just above the hut killed one man and took the leg of another, both from Bozeman. The film A Dozen More Turns tells their story and is a must-watch for any backcountry skier or rider. Bennett's take on the accident: "Bad things still happen to people who are trying to be conscientious." We knew we'd be taking it easy, with four feet of new snow and high avy danger.

The group made good time on the gradual climb to camp and arrived before noon. Hellroaring's no luxury lodge, but Bennett's two wall-tents have woodstoves, bunks for eight people, and plastic skylights that gather a surprising amount of solar heat—everything necessary for warmth, dryness, and comfort. We dropped our heavy packs, grabbed a snack, and got our bearings. It was time to make some turns.

The hut lies at 7,700 feet on the southern flank of Nemesis Mountain and provides ski access in every direction. The rocky summit of 10,032-foot Mount Jefferson hovers above camp to the east, and broad bowls and meadows spill down from gentle ridges to the south and west. Directly above camp, steep, treed faces and chutes are split by redrock outcroppings. And snow falls deep in the Centennials—it was early January and the tents were already buried.

Bennett led the way out of camp, pointing out the "bag-your-own" outhouse nestled in a grove of pines, and the nearby natural spring that provides clean water for the hut—no need to melt snow. We crossed a small gully and began the climb up a gentle, protected pitch called Miner's Ridge. I asked how it got its name. "Well, probably because it belonged to a miner," Bennett snorted. Good enough.

Further up the ridge, the broad flanks and summit spires of Mount Jefferson came into view. It's a skier's mountain, with options on every aspect and pitch ranging from mellow to vertical. But the below-treeline terrain at Hellroaring may be its ultimate strength. Endless gullies and rock outcrops spill like drapery folds from craggy ridgetops, and perfectly spaced spruce and fir offer outstanding skiing on rolling, protected terrain. For days of high avalanche danger or poor visibility, it can't be beat.

From the top, it's a quick 1,000-vertical-foot run back down. Bennett led the way on his tele gear, making precise, slashing turns in thigh-deep powder. We followed one at a time, seeking out lines amongst huge, mossy-sided tree trunks, hooting and hollering to stay together. Later, Bennett led us up another ridge to a stash called Doug's—named after the enormous Douglas firs common in the Centennials. We talked and laughed our way uphill, to where vibrant red cliffs marked the end of the line. Conversation lulled as we stripped skins once more and absorbed the beauty of snow falling over ocher stone and rich, fragrant, old-growth forest. Pushing off in a cloud of glittering Centennial cold-smoke, Bennett yelled "Last one back to camp hauls the water sled!"

Over dinner that night, our guide told us about his youth in Fresno, California, his trips to Antarctica, and of course, the Centennials.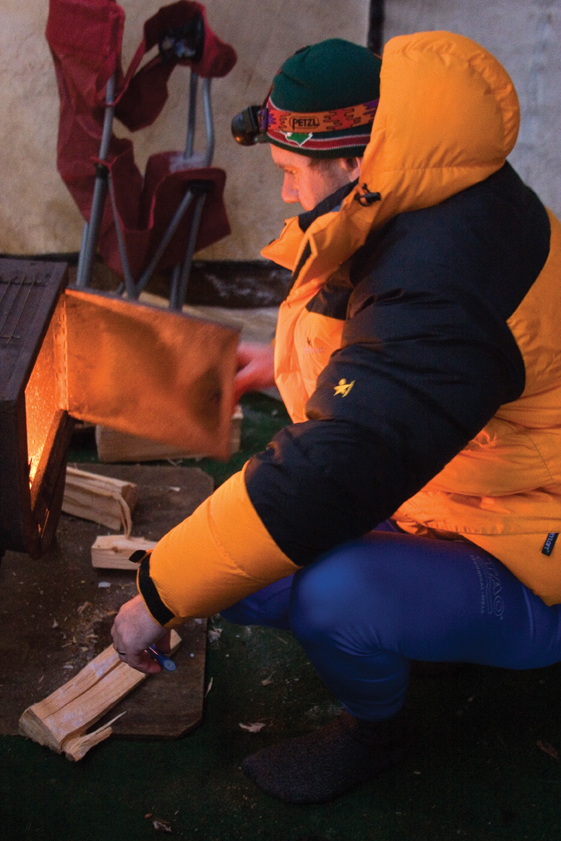 "The first few years I was up here," he said, "there was a male and female wolverine that lived nearby. They had a den somewhere, and we'd see tracks all the time." He said that wolves, cougars, Grizzly and black bears also wander through on occasion. This is wild country, where the snow beneath our skis forms the ultimate source of the Missouri River, and where rare predators find refuge alongside backcountry skiers and riders. In a state full of beautiful mountains, the Centennials are special.

Bennett, Mike, and Peter left the next afternoon after a powder brunch, but Simon and I skied another two days, exploring the redrock formations and diving into faceshot after faceshot. The snow was fantastic; bottomless early-season fluff piled five feet deep. And it was cold—approaching -30° at night. Restroom trips after dark were infrequent and hurried, to say the least.

On our last morning, we skied beneath sunny skies for the first time all week. It was a transcendent morning, lapping the benches and folds of the Miner's Ridge glades again and again, with Mount Jefferson looming above, flagged by wispy clouds. Finally, we abandoned our powder chase, broke camp, and headed for home.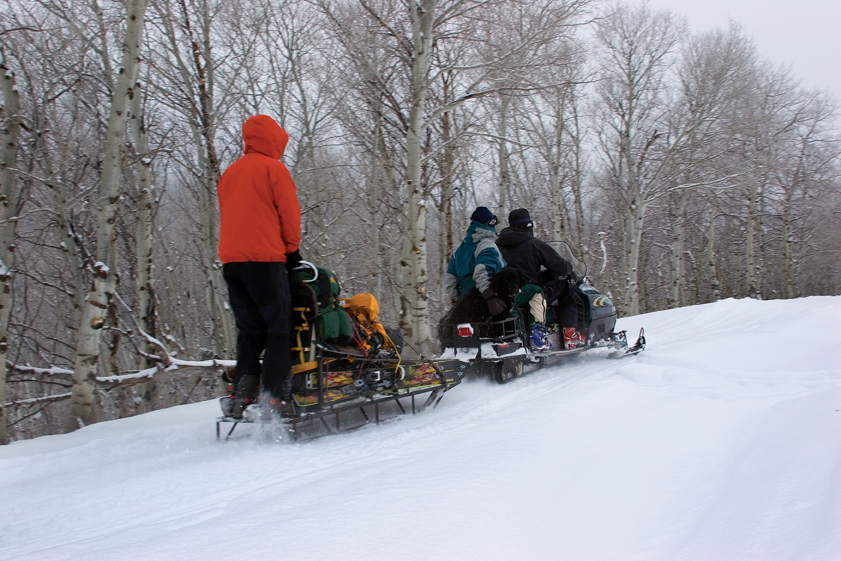 All was well, until the sled sputtered to a stop.

I'm cursing like a sailor. No amount of pulling will get it started: the starter pawl isn't catching. "Well," Simon says wearily, "We better get moving if we're going to get out before it gets too dark." So we slog back up to Red Rock Pass, where the sun is making its final stand, illuminating the hulking Centennials in frigid January radiance. We have miles yet to go in the growing darkness and penetrating cold, but it could be worse. Wild mountains, wolverines and grizzly, belly-button-deep powder: The Centennials aren't a bad place to be stranded. If only we hadn't finished all the beer…
---
Hellroaring Hut
Hellroaring Hut sits on the Montana/Idaho border at the base of Nemesis Peak, 25 miles west of West Yellowstone. Composed of two adjoining wall tents, the operation sleeps eight and comes stocked with necessary supplies—skiers need only bring personal gear and food. Roundtrip shuttle service ($25 per person roundtrip) is available to the trailhead; the yurt is 3.5 miles farther.

For newcomers, a first-day guide is required ($30 per person per day), and the entire hut rents for $240/night. Fully guided trips are also offered; prices vary with party size. Nonguided parties must have a leader with avalanche and firs-aid certification. For more information, check the website or contact hut owner Tim Bennett at [email protected]. skihellroaring.com; 406-570-4025.