The mountain is calling...
From many a window on campus, no matter what direction you're facing, you'll be staring directly at a snow-capped mountain range. Seven are visible from the Gallatin Valley, and during the school year, they're more than just snow-capped—they're snow-covered.
Whether you're getting in a run or two at Bridger Bowl between classes, splurging on a weekend at Big Sky Resort with the family, or busting out skate-skiing laps on Lindley Park, if you ski, you've come to the right place. If you don't ski, you will soon. Bozeman is centrally located for the winter-sports enthusiast; but before you hit the slopes, get the information you need to maximize your stoke.
Essential Gear
If you're skiing at the resort, you'll need all the basics: skis, boots, poles, helmet, outerwear, and accessories. If you're starting from scratch, hit up the second-hand stores like Second Wind and Nu2u, especially for big-ticket items such as skis, poles, and outerwear. If you're going to splurge on one item, make it your boots. Used boots are fine for beginners, but the right fit is key once you're aggressively skiing more technical terrain. Also, buy a new helmet—lice are gross. All of the same advice applies to snowboarders, although you won't need poles for resort riding. 
For the backcountry enthusiast, gear is a bit more complicated. The first thing you should buy is an avalanche course. There are a few fully certified guide operations nearby, such as Big Sky Backcountry Adventures at the Bell Lake Yurt and Beartooth Powder Guides in Cooke City. Courses are pricey, but your life is worth a couple hundred bucks. Once you've booked a course, you'll need safety gear like a shovel, beacon, and probe. (This safety gear is also required for Bridger Bowl's more technical Ridge terrain, so you'll most likely be purchasing it regardless.) This safety gear goes in a pack, so you'll need one of those as well. For day tours, something between 25-35 liters will do.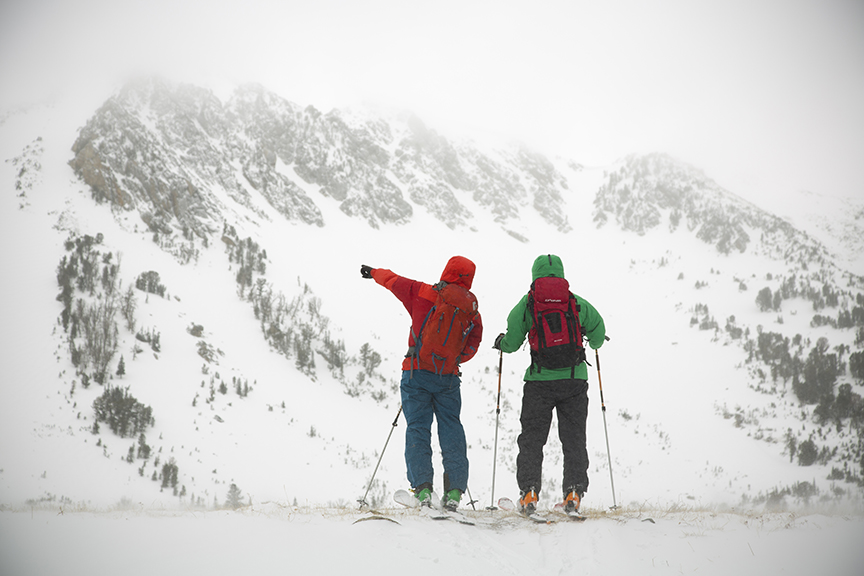 To get uphill, you'll need some skins, touring boots or boots with a walk mode (unless you snowboard), and some AT bindings. Snowboarders should check out the splitboard-binding company Spark R&D. They're the best in the business and their headquarters is right here in Bozeman. For skiers, if you get tech bindings, make sure your boots are compatible. If all this has confused you, go to a shop and talk through your options with a sales associate. Because you'll be traveling uphill in varying terrain, adjustable poles are nice, though not required.
If Nordic skiing is your thing, you're lucky—there's less gear and it's much cheaper. To get started, you just need skis, boots, and poles. Again, buying used skis and poles is a great way to save a lot of money. Better yet, rent equipment from somewhere like Chalet Sports or Round House, then buy once you know the style of skiing you like. For classic skiing, softshell outerwear works great. Use what you have before buying activity-specific items. For skate-skiing, you'll want something that breathes well as you'll be sweating up a storm. Racers wear spandex, but that's overkill for the recreational skier.
Remember that all these items and more are available for rent at the MSU Outdoor Rec Center, for great prices.
Where to Go
For downhill skiers and snowboarders, the obvious choice is Bridger Bowl. It's 20 minutes from campus, meaning you can get in a half-day between morning econ and your afternoon physics lab. They also have a great rate for students, and it's a good place to land a part-time job. That way you can ski for free. 
If you're feeling the need for some serious big-mountain skiing, pick a weekend or two and splurge on Big Sky passes. They're expensive, but the amount and quality of the terrain is worth the price of admission. Save a few bucks on gas by taking the bus, and pack a lunch instead of gorging at the resort.  
For a completely different experience, hit the road and make your way to any of the small-town ski areas within a few hours of campus. Red Lodge, Maverick, Lost Trail, and Discovery are some of our favorites, but there are several others that are worth a visit. Most are closed Monday through Wednesday, so watch the weather and head out after an early-week storm.
Outside the Treasure State, other options abound. Grand Targhee is about three hours away and gets hammered with snow, and about four hours away is the legendary Jackson Hole.
If you cross-country ski, Bozeman has more options than you'll be able to cover in four winters (or seven, as the case may be). Right in town, there are the hospital trails, groomed by the Bridger Ski Foundation and perfect for a lunch-lap or three. Out Bridger Canyon, check out CrossCut Ranch. This Nordic center has trails for all skill levels and even features biathlon. More on the wild side, the trail network in Hyalite is periodically groomed and nestled deep in the Custer-Gallatin National Forest. 
Backcountry enthusiasts can cut their teeth in Bradley's Meadow on the north boundary of Bridger Bowl. It's a short skin from the ski area's Alpine chair and offers a few safe, mellow turns. Up Hyalite, History Rock and Lick Creek are local favorites, and if conditions are right, Mt. Ellis is another close-by standby. Obviously, the options are endless, but we can't do all the work for you. Go explore—safely.
Events
As students, your schedules are jam-packed, but that doesn't mean you shouldn't make some time for fun. Skiing is inherently social, and the following events are the highlights of the season.
Bridger Bowl hosts weekly community events, ranging from freeride competitions to telemark costume races. Check out their event calendar once the season starts for more details. Big Sky also hosts daily events, most notably excellent live music and several bigger festivals. Big Sky Big Grass is a highlight every February, as is the Pond Skim in April.
Ski Swap – Bozeman. Get huge discounts on quality used gear just in time for winter. You'll be kitted out before the snow flies, and have more money in your pocket for that weekend trip to Big Sky. bridgerskifoundation.org.
Yellowstone Ski Festival – West Yellowstone. If you cross-country ski, you won't want to miss this weekend-long celebration of all things Nordic. Vendors are on hand with demo gear, pro instructors host clinics, and the trails are open for you to explore. skirunbikemt.com.
Big Sky Opening Day – Big Sky. Give thanks for overhead pow turns and steep terrain at Big Sky's opening day. Services will be limited, but this is a great way to get the season started. bigskyresort.com.
Projected Opening Day – Bridger Bowl. Chairs start spinning for another season at Bridger Bowl. Get your place in line, even if it means procrastinating during finals week. bridgerbowl.com.