Snowmaking and other news from BSF.
For many Bozemanites, in-town cross-country skiing is the secret to thriving in winter, or even the secret to sanity. Which is why the anticipation of a snowmaking system at Sunset Hills has created a stir. The Bridger Ski Foundation (BSF) just completed the installation of a new, portable snowmaking system on five kilometers of trail at Sunset Hills, considered to be centerpiece of the Community Nordic Trails, just a few blocks off Main Street next to Lindley Park and Bozeman Health. They expect to be blowing snow with energy-efficient snow guns as soon as temperatures allow this winter.
BSF has been grooming at the city-owned Sunset Hills since the 1960s, and the terrain is home to generations of skiers—from those learning how to take their first steps, to Olympians, senior citizens, and everyone in between. But snow levels have been unpredictable in town, and snowmaking will provide a consistent base to ensure skiing throughout the winter. 
The nearly one-million-dollar project came together as a community effort, with many businesses and individuals contributing and working together over the years to make it a reality. But the truly special thing about this snowmaking project? It's the access.
Because it's right in town, people ski in the wee-dark hours of the morning, throughout the day, after school, and well past dark (headlamps recommended). We like to think of it as both recreation and public-health infrastructure.
BSF grooms these trails with a one-of-a-kind voluntary trail pass that raises money to pay for maintenance and grooming, while allowing those who can't afford a pass to still ski. Sunset Hills is one of six locations groomed by BSF, totaling more than 70 kilometers of winter trails, all "free" to the public.
It's a system that's truly unique to Bozeman. And for you newcomers, here's the deal: buy a trails pass or make a donation to BSF to keep the trails groomed. It's the Bozeman way. And it's the way it should be. Keep the people skiing.
For more information, visit bridgerskifoundation.org/trails/sunset-hills-project.
---
Snow Pros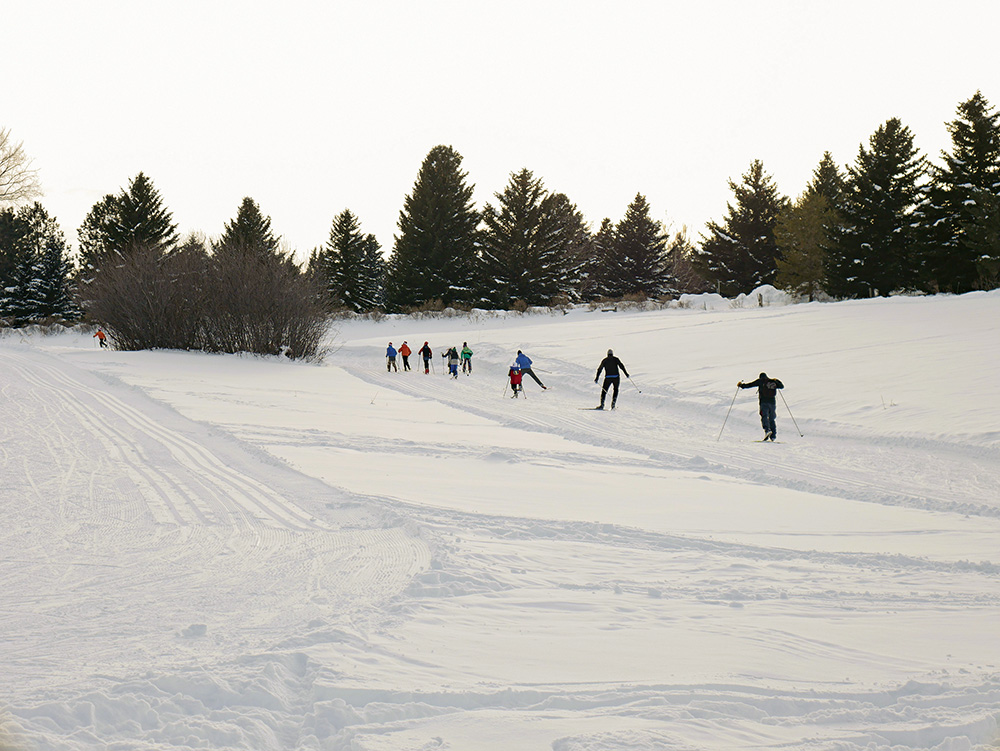 BSF offers over 30 different ski programs for both youth and adults. Here are a few ways to shred, slide, or glide with Bozeman's nonprofit ski club.
Nordic Youth. On-snow programs for ages five and up begin in December and January, with after-school programs in downtown Bozeman and weekend instruction at Crosscut Mountain Sports Center. They also provide summer and fall programs that get kids outside. 
Nordic Adult. Take a beginner or intermediate skate-skiing class this winter. Get beyond the shuffle with a classic-ski course. Or join their adult training group for regular ski workouts December through March. Keep an eye out for their helpful one- and two-hour clinics, too. 
Alpine Youth. Once your kids progress into intermediate terrain, send them to BSF for an introduction to alpine racing (ages six and up) and watch them tear it up at Bridger Bowl with the progression of BSF alpine programs. Off-season outdoor programs are available as well. 
Alpine Adult. Whether you're an ex-racer, avid competitor, or just want to sharpen your turns with a little gate practice, the Alpine Masters program gives you a way to run gates with a certified coach. Weekly sessions and punch-card options. 
Freestyle/Freeskiing/Snowboard. Youth can begin building their terrain park and mogul skills in the Freestyle Intro program as early as age six, and can choose a specialty as they progress. Off-season programs include trampoline and water-ramp work. —Jenny White
---
Jenny White is a freelance writer and the communications director for the Bridger Ski Foundation.