Finding one's place at the Yellowstone Rendezvous.
"You should do the Rendezvous with me," your sweetie says, before heading up Sourdough for a training run. "I don't wear spandex," you retort, as if that settles the matter.
But it doesn't. You think about it all day. You've always wanted to do this race. It's been what, 10, 15… no, 20 years since you first heard of it, since you read an article about a reluctant first-timer's effort at the fabled cross-country competition in West Yellowstone. It was a good story, you remember; it inspired you to rent skate skis at Lone Mountain Ranch and duck-slide the trails for a few hours. You got the basic movement down, but you didn't really enjoy it. Can't do everything, you told yourself, and that was that.
Except it wasn't. Way back in the dark chambers of the mind, the race lived on: that long, serpentine track through the forest; the packs of absurdly fit skiers laboring up long inclines, vying for position, then screaming down in full tuck; the bracing air and exuberant vibe at the starting line. Like the mountain-man gatherings for which it's named, the Yellowstone Rendezvous is a seminal community event, where like-minded outdoor folk come from far and wide to test themselves, brave the elements, and celebrate the strenuous life.
"Is there a classic division?" you ask that night. Eyebrows up, then a smile. "Yep."
So you snag a set of track skis and get to it. Mornings at Highland Glen. Evenings on YouTube, watching long-legged Scandinavians doing the diagonal stride, the double-pole, the kick-double-pole. Weekends at Crosscut, practicing the movements and building endurance.
Suddenly March arrives and you've both managed a dozen outings. That's enough, you tell yourselves, to not finish dead last. Together you load up the car and roll south, out of the windblown valley, along an iced-over Gallatin, into a world of white.
You hear the merry hum a half-block away. Hundreds of people, milling about the starting line, chatting, stretching, hydrating. You spy folks you haven't seen in years, making giddy small-talk between fits of shivering. It's a few degrees below zero. "Damn," an old co-worker says, "let's get this party started."
The emcee gives the T-minus, everyone shuffles forward, the gun goes off—and you immediately fall behind. Smooth-striding 20-somethings, lurching middle-agers, heavy-huffing senior citizens… they all kick and glide past as you struggle to keep pace. You give up and angle out of the way, only to hang up on the track and cause a traffic jam. A woman goes down behind you. "Sorry!" you cry and veer to the outer edge.
Finally the frenzy subsides, the throng spreads out, and all the eager skiers settle into the track. You take your place in line and let the tempo take over. You kick, you glide, and slowly your fingers thaw out, your breath evens out. You take your first good look around. The cold, calm air; the dark and silent winter woods; the big blue firmament above: it's freakin' gorgeous out here. 
A wheezing pulsation snaps you out of your reverie. Beside you appears a mustachioed man, smiling between desperate gulps of air. You smile back and on he goes, sliding in and out of the track as he weaves his way through the queue.
And that's when you remember: this is a race. You summon your strength. That guy up ahead in the red coat: you can take him. You do. That gal in the flowery spandex: you can take her. You can't; she's too fast. But she's a good pacer; stay behind her and as she passes other skiers, so do you. Maybe she'll tire.
She does. You sneak past, just barely. Next up is a woman in her mid-50s, athletic and strong as a draft horse. Shit, she's built like a horse: those haunches! You reach deep. A mile goes by, then another. Finally a long uphill: your forte. Just before the crest you pull alongside. She forces a smile as you inch past. Your own smile widens as you see a long downhill. Let 'er rip! You do, screaming downslope, winding through the turns, improving your lead.
Suddenly your skis chatter loose and you're down, hard. Oof. You moan and grunt to your feet as Haunches flies by, regaining her lead. You never see her again.
What you do see, once you're back in the track, is an old man. You can't see his face but you can tell he's geriatric. Underneath the shaky exterior, though, sits a foundation of stone: this guy's a skier. Those long legs, striding smooth and even, arms in perfect alignment… he's been doing this a long, long time. But he's 70-something! You can take him.
For the next four miles, you try. And you fail. You lose him in the turns and cross the finish line at an unimpressive 2:15. Later you look him up in the results: he came in a minute ahead of you, and his age group is 80+. 
You find your gal and swap stories. She too came in around the middle of the pack. She too got beaten by men and women in their 60s and 70s. And she, too, is awash in the euphoria of the day. Together you chug hot soup and cold beer and wander the finish line, noting the smiles, the sweat, the swaying and staggering—all the telltale signs of exertion, of exhaustion, of exhilaration, of a damn fine day in the mountains of Montana. 
You told yourself that you'd do this once, that you'd hang up those silly skinny-sticks for good after the race. But… that dude in his 80s! He had the technique. He had the endurance. And he wasn't wearing spandex. He's your damn hero and next year, you're gonna beat him. Your sweetie gives you a smooch and says, a twinkle in her eye, "Sure you will, tiger. Sure you will."
---
Travel Tip
Avoid a 4am wake-up call by spending the night before the race in town. With the bulk of the Yellowstone tourists having come and gone, many hotels have vacancy, and VRBOs abound. Our favorite place to bed down in West is the Johnson Creek Cabin on the north shore of Hebgen Lake. Stoke up the woodstove, watch the snow fall, and look for bison roaming the neighborhood, all from the comfy confines of this artfully restored old barn. For more info or to book a stay, visit vrbo.com/756008. —the editors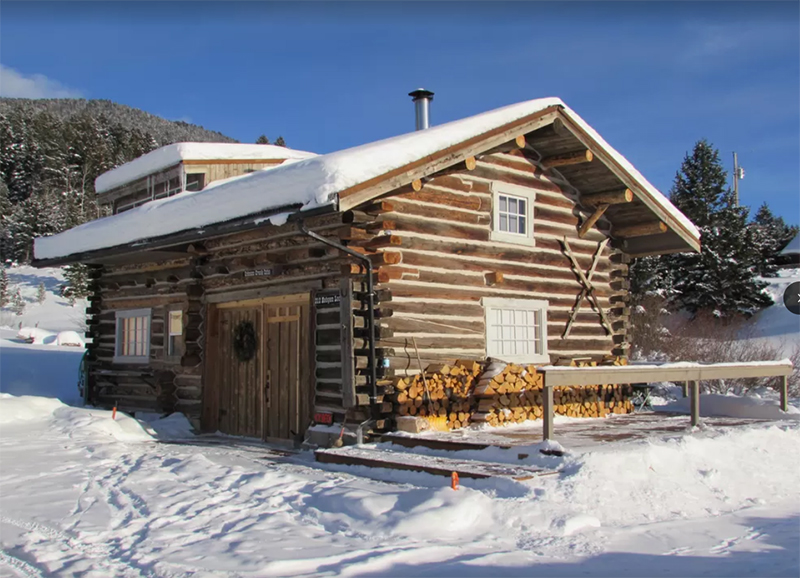 ---
Training Time
If you haven't sampled the local Nordic scene, you'll be blown away by the options—for rigorous Rendezvous training or just soaking up some winter sun. Make sure to buy a pass from the Bridger Ski Foundation, which maintains most of the ski trails around Bozeman. Grooming schedules vary; for up-to-date info, check out bridgerskifoundation.org/trails/grooming-report.
In Town. When time's tight or you don't feel like driving, spin laps at Bridger Creek, Sunset Hills, and Highland Glen. One-kilometer loops exist at MSU and Sacajawea Middle School, as well.
Near Town. Sourdough and Hyalite have longer trail systems, but they do get more traffic from non-skiers. Sourdough is especially busy on winter weekends, with hikers, runners, fat-bikers, and dog-walkers all vying for space on the trail. Stay in the track and you'll avoid (most of) the chaos.
Out of Town. Crosscut has all the kilometers you'll need for longer training runs, and you'll be off and running after a paltry half-hour drive. For more variety, and some steeper terrain, head down the canyon to Lone Mountain Ranch. If you still want more, hit Homestake Lodge near Butte or the B Bar Ranch up Tom Miner Basin. —M.E.