Mapping out your XC itinerary. 
Nordic skiing—both classic and skate—is an ideal winter activity to keep you active during Montana's longest season. The catch is the grooming… classic skiers can get away with ungroomed trails, but skate skiers need that luxurious corduroy. Lucky for us, the variety and accessibility of groomed trails around southwest Montana can't be beat. Here's a sampling, and remember that while Bridger Ski Foundation (BSF) maintains these trails for free, there's an optional ski pass that helps cover costs. Purchase one around town anywhere that sells or rents cross-country skis.
Bridger Creek Golf Course, Bozeman
Directions: Take Bridger Dr. to Story Mill Rd., head north, then turn on McIlhattan Rd.
Level: Beginner
Cost: Free, maintained by BSF
The Trails: The sweeping, fun loops on this quiet course can be skied in a variety of combinations across both sides of the road. The northern side features slightly more varied terrain than the southern side, but the whole area is pretty mild and a perfect place to get your footing. 
Highland Glen Trail, Bozeman
Directions: From E. Main, turn south on Highland Blvd. and park at the softball complex across from the hospital. Trailhead is on the south side of the complex.
Level: Intermediate, advanced
Cost: Free, maintained by BSF
The Trail: Several different loops can be skied in a variety of combinations in this twisty trail system, with easy access for lunchtime laps. Hop across Highland and connect to the Sunset Hills trails for added variety. Expect some steep hills and sharp turns.
Sunset Hills Trail (Lindley Park), Bozeman
Directions: From E. Main, pull into Lindley Park and head south from the parking area. Additional parking can be found at the softball complex mentioned above.
Level: Intermediate
Cost: Free, maintained by BSF
The Trails: This winding loop in and around Lindley Park is perfect for training laps or an afternoon glide. Connector trails get skiers into Burke Park for more miles and variety.
Sourdough Canyon (Bozeman Creek Trail), Bozeman
Directions: From S. 19th, turn east on Nash, then south onto Sourdough Canyon Rd.
Level: Intermediate
Cost: Free, maintained by BSF
The Trail: This classic Bozeman trail begins with a mild incline, then climbs steadily as it winds through the canyon above Bozeman Creek. Groomed for miles, this trail is a customizable out-and-back with convenient mileage markers. The first mile can get icy, and dogs are allowed.
Hyalite Canyon, Bozeman
Directions: Take S. 19th to Hyalite Canyon Rd. Follow the road until you reach trailhead access at Blackmore, Grotto Falls, or Hyalite Reservoir.
Level: Intermediate, advanced
Cost: Free, maintained by BSF and the Forest Service
The Trails: Hyalite's year-round recreation includes almost 20 miles of groomed trails, plus countless miles of ungroomed terrain for classic cross-country skiing. The groomed trails traverse unused logging roads, hiking trails, and connector trails with terrain for most skill levels. Dogs allowed.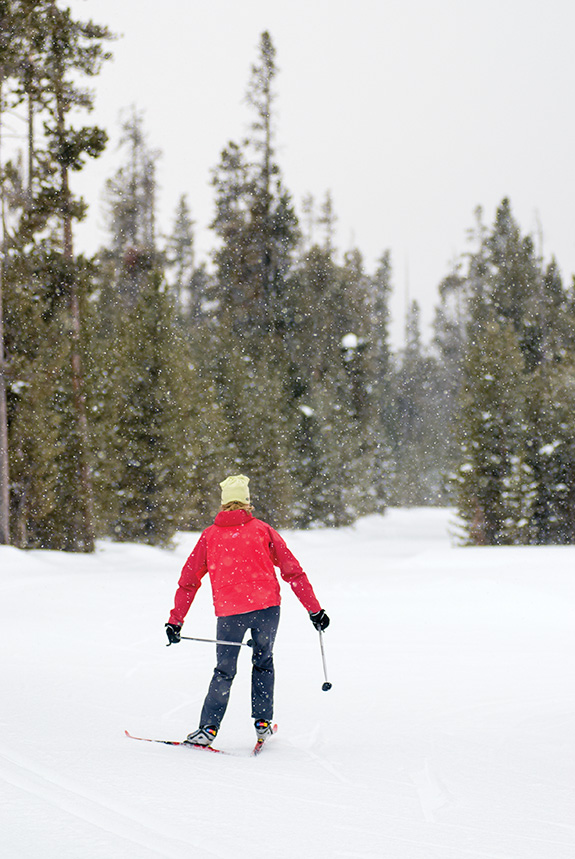 Crosscut Mountain Sports Center, Bridger Canyon
Directions: Head north on Rouse until it becomes Bridger Canyon Dr. Crosscut Mountain (formerly Bohart Ranch) is on the west side of the road after about 17 miles.
Level: Beginner, intermediate, advanced
Cost: $20 adult day pass, $250 season pass
The Trails: You'll feel like you entered a magical forest fairyland as you cruise through the trees on near-perfect snow. The trails are wide, flowing, and maintained on a daily basis. Trail maps and color-coded markers put skiers on the right trails for their skill level, but be aware that most trails will have some intermediate sections. Next season, Crosscut will offer events, races, and beginner lessons throughout the season. Stay up to date at crosscutmt.org.
Lone Mountain Ranch, Big Sky
Directions: From Hwy. 191, head up into Big Sky. Just as you start to climb toward the ski hill, watch for Lone Mountain Rd. on the right.
Level: Beginner, intermediate, advanced
Cost: $20 adult day pass
The Trails: Lone Mountain Ranch maintains over 50 miles of trails for all skill levels, whether you want to get out for an afternoon, or you're spending the weekend at the lodge and looking to get deeper into the woods. Trails are meticulously groomed and the backdrop can't be beat.
Rendezvous Ski Trails, West Yellowstone
Directions: Take Hwy. 191 to West Yellowstone; head west on Yellowstone Ave. and turn on S. Faithful.
Level: Beginner, intermediate, advanced
Cost: $8 adult day pass, $40 season pass
The Trails: The farthest from Bozeman of these options, this trail system is worth the drive. Skiers can spend all day circling through the peaceful, wooded trails, with high-quality snow throughout the season, well-marked trails, and a variety of terrain. Rental gear and day passes are available at Freeheel and Wheel, located up the street from the trails. Find trail maps, event schedules, and more at skirunbikemt.com/ski.
---
Foundational Support
Trails maintained by Bridger Ski Foundation are free, but consider supporting the grooming efforts by purchasing an annual trail pass. Passes, snow reports, and grooming schedules for BSF-maintained trails can be found at bridgerskifoundation.org. Dogs are not allowed on these trails unless otherwise noted, but be on the lookout for dog-friendly events throughout the season.