Crossy-country skiing in Hyalite. 
The ski trails in Hyalite will boast a few upgrades this year, but for those who relish the backcountry feel of this nearby recreational haven, don't worry. This won't lead to resort-style cross-country skiing.
"Hyalite ski trails are intended to provide rustic Nordic skiing experiences which blend with the landscape," says Wendi Urie, the recreation program manager for the Custer-Gallatin National Forest's Bozeman Ranger District. And that experience remains—with rowdy descents and quiet stretches of solitude.
New this year, the Forest Service improved a section of trail from Palisade Falls to the Maxey Cabin; it's now graded and resurfaced with gravel. The trail has also been rerouted to skirt around the cabin. Two years ago, the Westshore trail, starting at the Hyalite Reservoir parking lot, received the same treatment. Wendi notes that improvements were made to enhance both winter and summer recreation with "family-friendly trail surfaces and grades to allow diverse user types to utilize these trails during all seasons."
Grooming
The Forest Service's snow rangers are the primary groomers of the Hyalite trails. The local nonprofit Bridger Ski Foundation (BSF) steps in to provide assistance where needed. "We'll pick up slack when they don't have the personnel, or if it's low snow in town," notes Kyle Marvinney, trails coordinator for BSF, which grooms up to seven venues closer to town, including the popular Sourdough-to-Mystic Lake route. 
Kyle urges skiers to think of in-town venues as being more manicured and regularly groomed (many of them for ski traffic only), while Hyalite is intended to be a more rustic trail experience for multiple user groups. The Hyalite trails typically get groomed once a week or so, as conditions and the snow rangers' workloads allow.
Orienting
Most newbies have found themselves at least momentarily lost somewhere in Hyalite at some point. It's a rite of passage. While Hyalite may be the most visited recreation area in the region, it's still wild. "Even just grooming it is an adventure," Kyle says. 
For those who like to know where they're going at all times, many of the trail junctions now have maps, thanks to the nonprofit Friends of Hyalite.
Best Routes
Short on time? Link up the Blackmore loops for a quick, fun outing. Or do an out-and-back along the Westshore trail. 
Out for the day? There's nothing quite like the views you'll get following the groomed trails for a big loop around the lake. In March, BSF hosts the Hyalite Classic on this route.
In addition to the groomed routes, there are miles of ungroomed trails to explore. For those with the endurance, there are some great options to connect the groomed Sourdough trail with Wild Horse or Moser.
Best Behavior
Groomed ski trails in Hyalite are shared with pedestrians, other backcountry enthusiasts, and canines. Which means we all have to know how to share the space in order for things to stay fun. Brush up on your trail etiquette responsibilities at gallatinvalleytrails.org. 
All this great skiing happens because of a lot of great partnerships. The road into Hyalite is plowed due to a unique partnership the Forest Service has with Gallatin County and Friends of Hyalite. BSF's grooming is supported by voluntary trail passes and donations, which (hint, hint) means that best behavior might include backing Friends of Hyalite and BSF.
Resources
Winter Recreation Hyalite Map: hyalite.org/winter_map
Nordic Trail Maps & Grooming Reports: bridgerskifoundation.org
January 1: BSF hosts the Hyalite Tour—a free, casual, ski-what-you-want tour, followed by campfires and lunch afterward. This is a great time to explore the trails with other like-minded folks.
March 23: The Hyalite Classic, a 15km classic cross-country ski race that makes a large loop around the reservoir.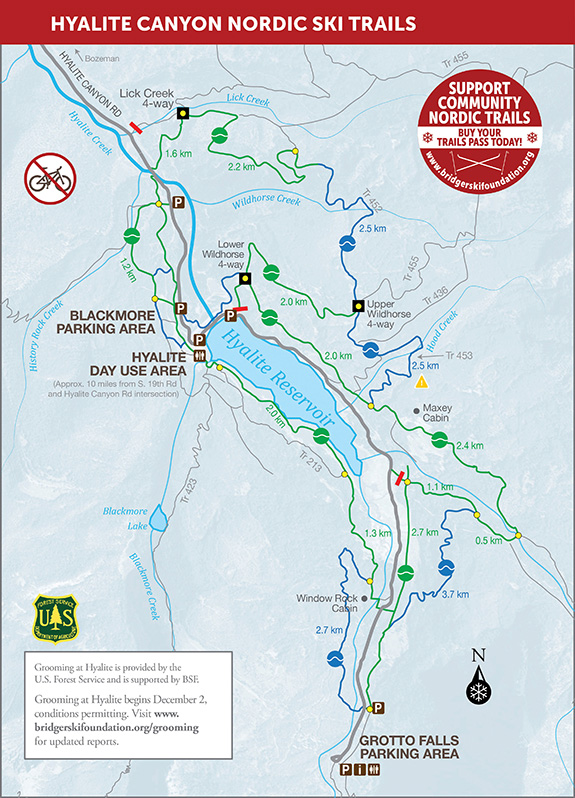 ---
Jenny White is a freelance writer and the communications and marketing director for the Bridger Ski Foundation.