The ascent of cross-country skiing.
Push, glide, kick. Push, glide, kick. Repeat.
At its roots, cross-country skiing is as simple as that, a discipline born of function, a mode of transportation more than a concoction of recreation.
And in that simplicity lies the appeal. Get to a trailhead, put on your skis, go skiing. Travel through wild country penned in by towering pines, or strike out across open meadows buried under several feet of crystalline, sun-drenched snow. Ply the deepest, darkest corners of the woods, or lap a familiar town parcel on your lunch break. Appealing, indeed.
Here in southwest Montana, cross-country skiing often plays second fiddle to its more popular alpine cousin. Big Sky Resort, much to the chagrin of locals, is known the world over, and Bridger's legendary Ridge has more than its fair share of nonresident admirers. Lone Peak graces the pages of national ski magazines, and major life choices have been made—sometimes dubiously—in order to ski Bridger's cold smoke.
And I can't say I blame people for their adoration of our local alpine offerings. In fact, a job at Big Sky is how I found this place and a deep winter at Bridger Bowl is why I'm still here. But recently, as the crowds grow and the prices climb (and as my back and knees deteriorate), I've turned to cross-country skiing, and a whole new world of winter wonder has opened up.
It started with hour-long outings on the endless trails up in Hyalite, and quickly progressed to weekend-long mini-vacations and plans for regional road-trips—not pursuing powder, but rather chasing corduroy.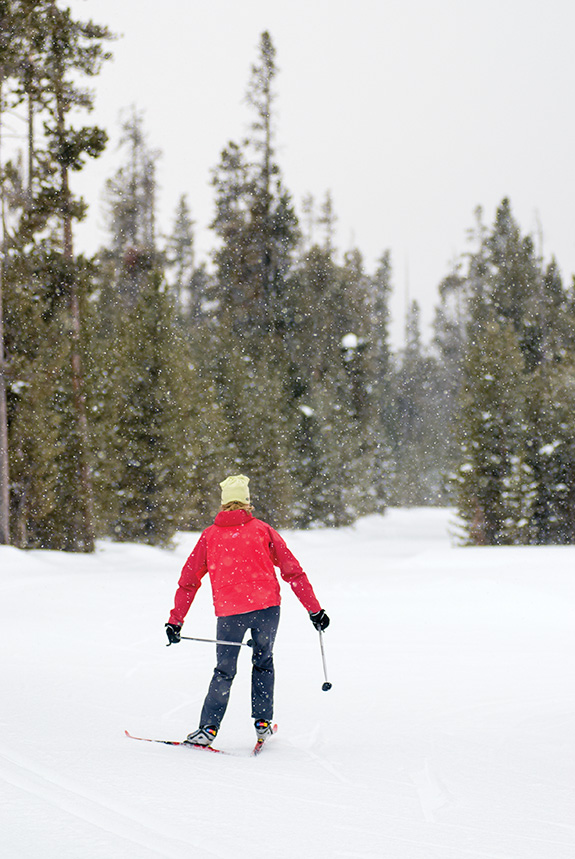 And corduroy is what I found, as close as the hospital trails at Sunset Hills and as far away as Rendezvous in West Yellowstone. Cross-country skiing fostered a new appreciation for alpine enclaves like Big Sky, and expanded my options at close-to-home favorites like Bridger. It was good exercise, got me into the woods and off the chairlift, and didn't come with some of the risks associated with backcountry ski-touring.
If all of this sounds appealing to you, you're in the right place. The following rundown serves as a mini-guide to the numerous local Nordic options, from the wilds of Yellowstone Park to the comforts of Lone Mountain Ranch. There's something for everyone, even the alpine diehards.
Around Town
As with many things outdoor-recreation-related, Bozeman is an embarrassment of riches. Just around town, the Bridger Ski Foundation (BSF) and its partners groom 70 kilometers of trail. Thirty of those 70 are in Hyalite, and another big chunk is the Bozeman Creek trail, but still—that much action within 20 minutes of downtown is pretty impressive 
If you'd rather not leave the city limits, you'll have to settle for Sunset Hills, Highland Glen, and the Bridger Creek golf course. If all that isn't enough for you, consider buying a trails pass. (You should buy one anyway, because proceeds from the pass go toward BSF grooming efforts.) The more revenue generated by trails-pass sales, the more grooming BSF can handle.
BSF also hosts community races and tours throughout the winter, so stay tuned to their website (bridgerskifoundation.org) for more info. There, you'll also find up-to-date grooming reports and maps.
Just up the road in Bridger Canyon, the Crosscut Mountain Sports Center is revitalizing competitive Nordic endeavors, investing heavily in biathlon and cross-country racing. This winter, the NCAA Championships (March 11) will be back at the center, the seventh time these trails in the Bridgers have hosted the event, but the first time since ownership switched from Bohart to Crosscut a few years ago.
If racing isn't your thing, fret not. Crosscut grooms over 35 kilometers of trail for public use every day. Season passes are only $250, and dogs are allowed on specific days, so no need to leave Madison at home or in the car. I've taken to skiing laps at Crosscut in the morning, and then heading to Bridger for some lift-served skiing in the afternoons, after the madness of the morning rush has subsided. Crosscut has big plans for more infrastructure upgrades, so keep an eye on their progress.
In Hyalite, BSF partners with the Forest Service to periodically groom up to 30 kilometers of trail, from Lick Creek south to the Window Rock cabin. This system is a great place for beginners to develop their skills on a variety of terrain. Most trails are mellow, but once you get the hang of it, Hyalite becomes a choose-your-own-adventure.
Down the Canyon
Now that you've taken to cross-country skiing, sacrifice some downhill time to more level pursuits, and pursue no further than Gallatin Canyon. Cruising this corridor to its terminus and just beyond will leave you at the threshold of the Rendezvous Ski Trails in West Yellowstone. This system is managed in partnership with the Forest Service, the West Yellowstone Chamber of Commerce, and the West Yellowstone Ski Education Foundation. It features 35 kilometers of trail and an excellent community-oriented race series. 
If Bozeman is a cross-country-skiing town on the rise, West Yellowstone is the established veteran, long dominant and confident enough to make space for an upstart. The Nordic tradition here runs deep, and it's evident in the expertly groomed trails that wind their way through rolling meadows and vast stands of pine.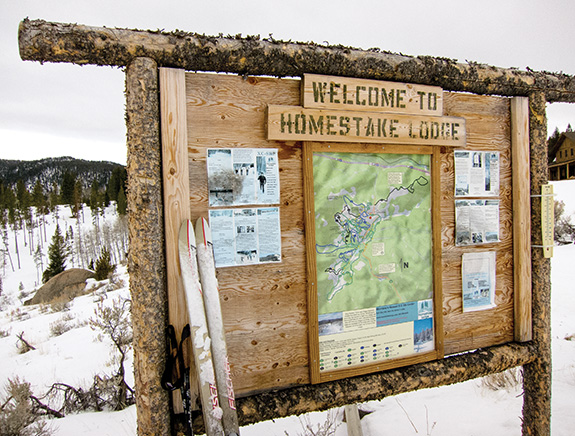 Not to be outdone, Lone Mountain Ranch in Big Sky boasts 85 kilometers of groomed trail, and comfy cabins for those looking to stay the night. Now, this isn't a roughin'-it kind of place. The National Geographic Society has identified Lone Mountain Ranch as a Unique Lodge of the World, recognizing the resort's commitment to natural and cultural heritage. Take that for what you will, but keep in mind that Lone Mountain has been around for over 100 years. With that kind of staying power, they must be doing something right, plus you can tack on a downhill day up at Big Sky.
Beyond the Bozone
If your new Nordic passion becomes an obsession, strike out in all directions to satiate your cravings. To the west, Homestake Lodge's 35 kilometers of groomed goodness come replete with Tobacco Root views and cozy cabins. Just east of Homestake Pass off I-90, this down-home Montana gem has a variety of food and lodging options for those wanting to stay for the weekend, or inexpensive trail passes for day visitors 
South and east of Bozeman in the fabled Tom Miner Basin sits yet another option. B Bar Ranch is a working guest ranch striving for agricultural sustainability while raising organic beef. One way they do that is by inviting guests to their rustic cabins year-round. In winter, they groom 20 kilometers of trail on-property, more than enough for a weekend-long stay. If you're feeling adventurous, use the ranch as a basecamp for further exploration of nearby public-lands trails on Forest Service land or in Yellowstone National Park.
All of these options are invitations. They're encouraging you to try something new, or go somewhere new. If you're a lifelong Nordic nut and have visited the above-listed locales, others are out there—in Red Lodge, Driggs, Philipsburg, and beyond. This list scratches the surface, and barely touches on the public-lands options. Books have been published and more will be written about the opportunity that awaits at almost any trailhead across the region.
This winter, as you're planning yet another powder-chasing road-trip, do as I've done, and consider the corduroy.