Small-town skiing and old-school environs at Maverick Mountain. 
Unloading at the top of the double chair, we hang a right and run into a patroller. He hollers something I can't hear, but apparently he wants us to follow him. We do, dropping into a mellow blue run called Thin Air before banking right and flying past a sign labeled Widow Maker, with two diamonds on it.
Shit, I think, as the pitch tips far more vertical. While the terrain looks manageable, I've never skied at Maverick Mountain before and am starting to doubt myself. But my fears quickly vanish—the snow is soft and the turns are great. Plus, there's no one here. By the middle of the run I'm all smiles, my face going numb from the cold and wind.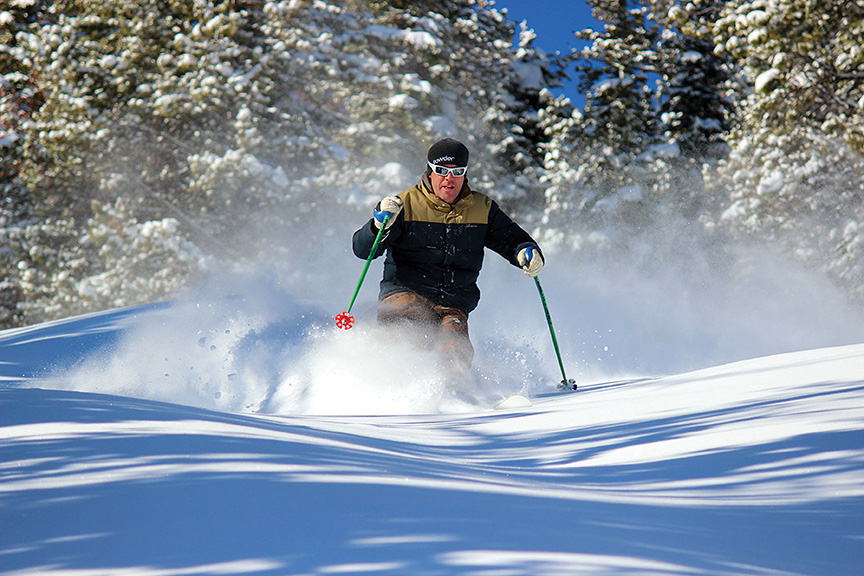 Mid-week closures mean the powder sticks around.
We gain speed, linking big, swooping turns down the slope. A few inches of fresh snow cling to variable hardpack, meaning I have to be on my game; but overall the turns are consistent and we reach the bottom in no time. We cruise back to the chair, spirits high.
I say the chair because Maverick only has one, and it takes ten minutes to get from the base to the summit. That leaves a lot of time for chatting, and luckily my chair partner and guide for the day is Maverick GM and co-owner Erik Borge. Erik is in his late 20s, and at first glance, doesn't look like a ski-area owner. "I've always loved the skiing lifestyle," he tells me as we cruise to the top, "and when [the opportunity to purchase Maverick] came up, I couldn't let it pass by. So I got some friends together and made it happen." Before committing to Maverick, Erik was a longtime Bozemanite; his wife Kristi grew up in Big Sky. They made the move to the Big Hole Valley together, with Erik taking over ski operations in 2015-16 and Kristi teaching kindergarten through eighth grade at a one-room schoolhouse in town.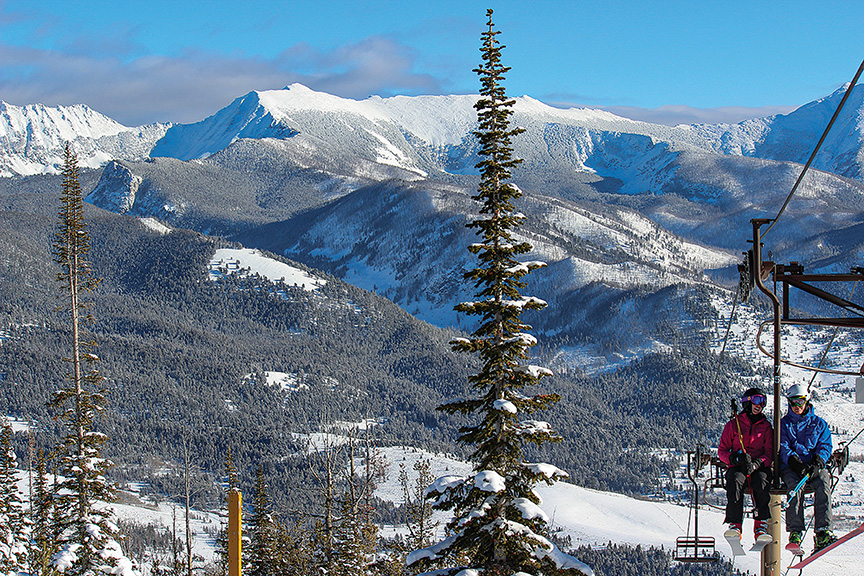 One chair, two seats, lots of conversation.
At the top again, we skate left and pick up speed rolling over an open groomer. I follow Erik to the top of a south-facing tree run. He stops, turns, and smiles—like a kid about to do something he's not supposed to.
"This stash is a bit of secret," he confesses. "But I'm sure you won't tell anyone." I remind him where I work: at an outdoor magazine. He laughs it off and drops in, yelling over his shoulder, "Just don't use any names!"
The trees are tight and there's a lot of deadfall. While Maverick doesn't get skied out nearly as fast as some ski areas, it also doesn't get the snowfall we get around Bozeman. This year, the base is solid but there are still some exposed branches and lurking limbs. We manage to avoid bodily harm, but the same can't be said for my ski bases, which will need some p-tex when the day is done. The pitch in the trees is perfect for carrying speed, and we hoot and holler our way to the traverse leading back to the front side of the mountain.
Back on the chairlift, Erik fills me in on the details of running a resort. His passion for skiing and the ski community is obvious in his dedication to Maverick, and while he's still new to running the place, he's been all-in from day one. "We close around 4pm, and then I spend an hour or two talking to folks in the Thunder Bar, before eating some dinner, and maybe paying a bill or two," Erik explains. "Then it's on to grooming, which can take all night. There are nights I don't sleep." He relates all this with an infectious smile that makes me want to be a part of the community he's creating. He seems like the perfect antidote to the mega-resorts and skyrocketing prices plaguing the rest of the industry.
We lap the double chair all morning, dipping in and out of Erik's secret stashes, still soft from a storm earlier in the week. (Maverick is only open Thursday through Sunday.) Around noon, we stop for a burger. I have a beer—all four taps are occupied by Dillon's Beaverhead Brewery, and it's as good as the skiing. Erik passes; he's on the clock and will be until what needs to get done gets done, which could be later that night, or early the next morning.
From the warmth of the lodge, we watch schoolkids race down the bottom section of a lower-mountain trail. It's the final day of ski school and an award ceremony will follow. One way Maverick keeps the chair spinning is by providing a resource to local schools. In this case, "local" means as far away as Butte, Dillon, and small towns across the border in Idaho. Homemade cookies are stacked on a table in the cafeteria, and parents dote on their kids. An instructor tightens boots and rearranges coats and gloves. (The same guy poured my beers at Elkhorn Hot Springs the night before, and served another table spaghetti & meatballs.)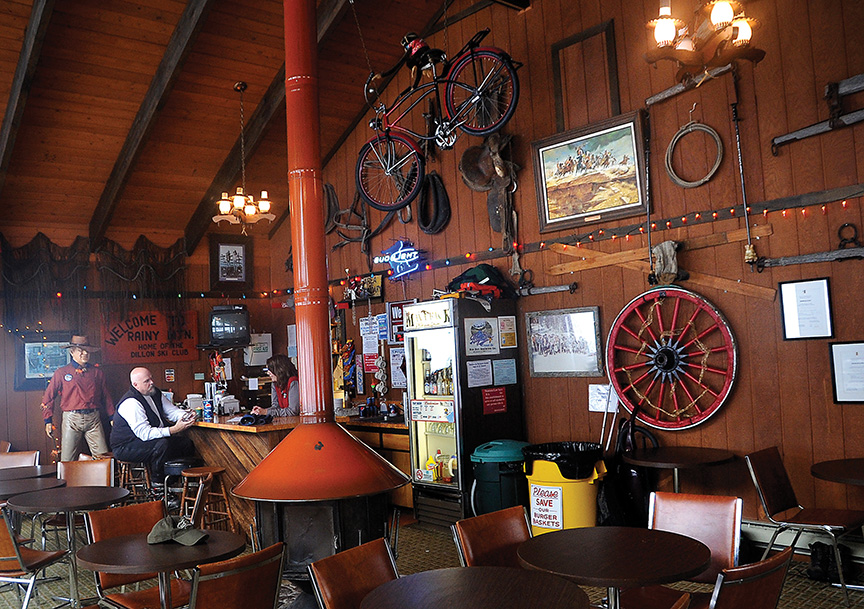 Maverick's base-area bar: plenty of elbow room.
About a dozen people mill around the bar and everyone seems to know each other. People call out over one another, discussing details of each other's lives in a way only small-town neighbors can. I don't dare butt in, or mention that I'm visiting from the big city of Boz Angeles, and Erik is nice enough not to give me away. The discourse is noticeably absent of words like "stoke," "blower," "epic," and "gaper," and it's refreshing. I take another sip and lean back in my chair.
My pale ale fills me with a warm fuzzy feeling that makes me want to ski more, so I toast the bar, thank Erik for his hospitality, and head back out. While I've only skied one morning at Maverick, I feel like I know the place. It's a familiarity that takes seasons to develop at bigger resorts. Feeling sufficiently lubricated, I opt to go right at the top, heading back to Widow Maker.
There's no one around and I take my time with it. I feel no pressure to go fast, track vertical, look a certain way, or talk a certain way. I don't worry about getting in a bunch of laps or hikes or whatever. In the distance, the Pioneers loom large over the landscape; their treeless peaks remind me of the big-mountain skiing that has captured our popular imagination and which dominates ski media. While touring into the uncertainty and challenge of their wild reaches would be exciting, somehow I don't feel like I'm missing out. Current trends aside, skiing is more than epic adventures into uncharted territory. It's homemade chocolate chip cookies, one-chair community mountains, and skiing "secret" tree stashes with the boss.
Before too long, the real world calls me back, and I remember that deadlines are looming and I live hours away. I make my way back to the base area, take off my skis, and walk to the car. As I plop down behind the wheel, I breathe deep and let out a long, contented sigh.
Back on the road, my car pointed toward home, I take in the scenery. The Big Hole Valley spreads out all around me, sage-covered hillsides giving way to dense stands of timber. Antelope graze the winter range and a lone raven circles overhead. My car radio isn't picking up anything worthy of my attention so I drive in silence. My legs are heavy and I smile. I've worn myself out at a one-lift community ski area in small-town Montana and it feels fantastic.
---
Keep Sliding
If you make it to Maverick this winter, there's no reason to stop there—more ski hills bedeck the nearby mountains, giving you add-on options for a long weekend of small-town skiing. From Maverick, head back to Hwy. 278 and hang a right. At Wisdom, point your wheels west on Hwy. 43 and roll through miles of wide-open ranchland, past the Big Hole Battlefield, and on through a beautiful forested canyon. At the intersection with Hwy. 93 you'll find Lost Trail Powder Mountain, a family-owned ski area that, after three-quarters of a century, still offers one of the best old-Montana experiences around. The snow is generally good, the terrain's decent, and the price is hard to beat—only $42 on weekends. Beginners may stick to the Huckleberry Lift, while more advanced skiers warm up on Chair #2 before making their way to Hollywood Bowl. Be advised: Lost Trail is only open Thursday through Sunday, so plan accordingly. Nearby lodging options vary, but we're partial to Lost Trail Hot Springs—there's a cash discount, so hit the ATM beforehand.


"Disco" at dusk.
After getting your fill at Lost Trail, drive east back to Wisdom, then head up Hwy. 43 toward Wise River. You'll cruise along the Big Hole River a ways before taking the scenic back-road, Hwy. 569, north to Anaconda and Hwy. 1. Top off the tank and continue on Hwy. 1 east, past Georgetown Lake and into the quaint old mining town of Philipsburg. If you got a decent start, you'll have time to tool right on through and take in the Pintler Scenic Loop, a stunning stretch of road that runs north toward I-90. Back in P-Burg, grab a pint at Philipsburg Brewing Co. and ask your bartender for food suggestions—just remember that in a town of 850, there won't be too many. Crash in town at an inn or B&B, or take advantage of ski-and-stay packages at nearby Fairmont Hot Springs (sense a theme?). Either way, make haste the next morning for Discovery Ski Area. Disco doesn't get quite as much snow as Lost Trail, so don't plan on overhead blower; but if you do catch it on a powder day, it might just be the best skiing you do all winter. Kids can cruise endless groomers while Mom and Dad pop over to Disco's famous backside, where an old-school double-chair deposits you above a smorgasbord of steep and sustained expert terrain. Another bonus: lift tickets are under $50, so there'll be plenty of cash left over to stay an extra day.