Weekender: The Upper Madison
A warning from winter jumpstarts a fishing road-trip. 
As the first winter-weather advisory of the season flashed across my news feed, it hit me that summer was coming to an end. But there's so much we haven't done yet, I thought, as rain turned to snow and flakes accumulated in the back yard. Had another summer season really come and gone? 
Instead of wallowing in the realization that soon enough we'd be wearing long johns to work and sleeping under several comforters, we planned a road-trip. A fishing road-trip, to be exact, that would take us from the frosty confines of Bozeman to the sprawling upper Madison Valley. While the forecast for the weekend was mixed, Sunday looked warmer and sunny, so at least we'd have some good weather, and hopefully some good fishing. But first, a stop at Norris to warm our aching bones. A crisp early-fall morning is the perfect time for a soak and the natural springs did wonders to muscles and joints that were about to spend most of the day tense and cramped.
Since taking up fly fishing (in a strictly recreational sense), we'd dreamed of catching fall browns on the legendary upper Madison River. While it was early still for the spawn, we figured this could serve as a scouting operation. Locales like Three Dollar Bridge, Valley Garden, and others called to us, but in the past we'd passed them up—maybe we were intimidated by the crowded sites and broad, complex stretches of water. At Three Dollar Bridge, boulder gardens hug the shoreline, creating deep pools or slow, enticing water. But just beyond the rocks, the river rages, even in early fall. Braided channels define the Valley Garden stretch outside of Ennis, slowing the river's course; but about a dozen guide rigs tend to idle in the parking lot, and it isn't easy to avoid feeling judged.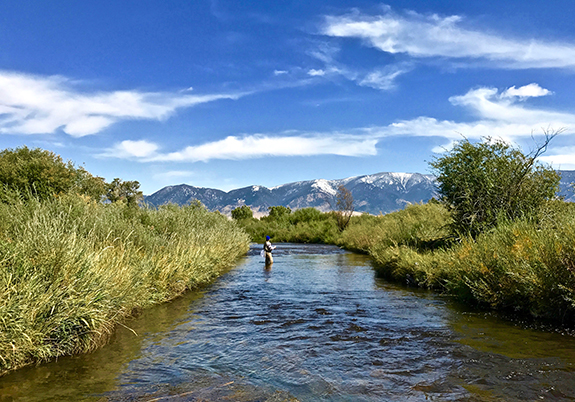 The slow, braided channels of the Valley Garden stretch
Luckily, a stop at the Tackle Shop in Ennis gave us the courage we needed to park our reticence and give it a go. With a bit of expert advice, and some liquid courage provided by an extra espresso shot from Maples, we sheepishly stepped into the river. From the fishing access site, the Madison looked broad and shallow, not great for fishing. A few yards from the shoreline, however, an island interrupted the river's flow, diverting the water into channels. I patiently waded along the island's shoreline, then used well-worn angler paths until clumsily popping out of the brush right above a deep pool. A quick flash, and a dark orb shot away from me like a cannon. I guess I blew that one, I thought as I let line out and cast to the hole anyway. I tend to take a laid-back approach to fishing, in it more for the scenery, which wasn't lacking on this particular Sunday. As the sun made its march across the southern sky, the road beckoned, so out of the river and into the car we went. The next stop was Three Dollar Bridge, just downriver from the Quake Lake rapids. From the road, the Madison here looks fast and turbulent. Rapids rage through the central channel and under the bridge; but along the shoreline, boulders create slow-moving pocket water teeming with fish. Or so they say. We didn't catch squat.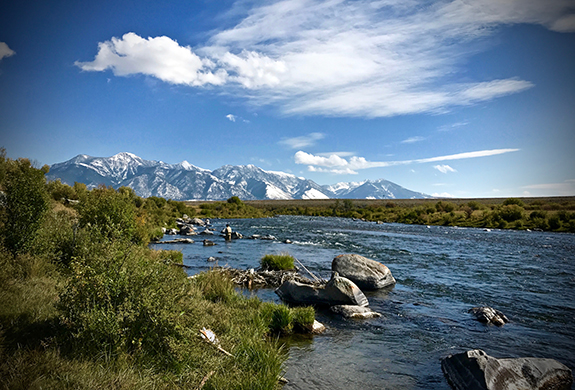 Boulder gardens near Three Dollar Bridge, Madison River
When you're coming up empty, experience reminds you to go back to where you've had success in the past. For us, that's the Madison as it lazily courses west out of the Park north of West Yellowstone. Sure enough, a baetis hatch was going off and there was surface action visible from the Hwy. 191 bridge. Closer examination revealed small fish feeding on small flies, so rods were rigged and shots were taken.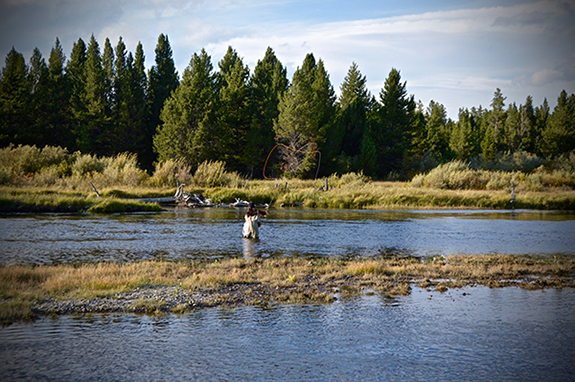 Casting that would do Pitt and Redford proud
This stretch of river allows for big, looping casts that roll across the river's surface and land satisfyingly in the spot you want. The river is wide, so no need to worry about a back cast getting snagged; and it's calm, so you can be lazy and focused at the same time, honing your craft.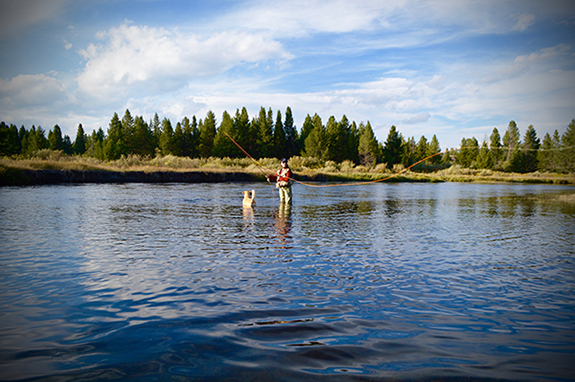 It wasn't until early evening that I realized we hadn't caught a fish yet. You might find that hard to believe, but it's not so far-fetched when you consider the country we were passing through. From Ennis to West, the Madison River bisects some of Montana's finest, meaning some of the finest anywhere. And maybe that's why we'll never be true fishermen: how can we focus on the fish when there's the river to consider? Not to mention the sage-covered valleys, snow-capped mountains, and towering timber. The fish are a small part of the whole, but to catch them, you have to make them central. We tend to take a more macro approach to our recreation, easily distracted by the big landscapes begging to be explored.
That might also explain how another season's come and gone, without us hardly realizing it. Montana is full—of fishing, biking, hiking, camping. And that's what makes time fly. But it's also full of opportunity: access sites, trailheads, campgrounds. So it's never too late to hit the road and take advantage. While summer is technically over, winter is still a long way off, and in the meantime, fall will do just fine.