For almost 20 years, we've heard countless stories of wounded veterans returning from combat, only to face an uncertain future due to their newly-acquired injuries. By now, we all know that US service members return every day with life-changing wounds—both physical and psychological. What you may not know is this: there are organizations right here in the Gallatin Valley that actively help wounded veterans recover and cope with their injuries, and that these organizations use fly fishing as a tool for healing.
One of the most involved organizations, Warriors and Quiet Waters, utilizes the calming and tranquil nature of fly fishing to help soldiers and sailors injured in Iraq and Afghanistan deal with their wounds. Founded in 2007 by Bozeman local Eric Hastings, a retired Marine Corps colonel, WQW provides customized fishing experiences for every participant, regardless of the type of injury, including Traumatic Brain Injury or physical amputation. Recently, they've added programming exclusively for female vets. Learn more at warriorsandquietwaters.org.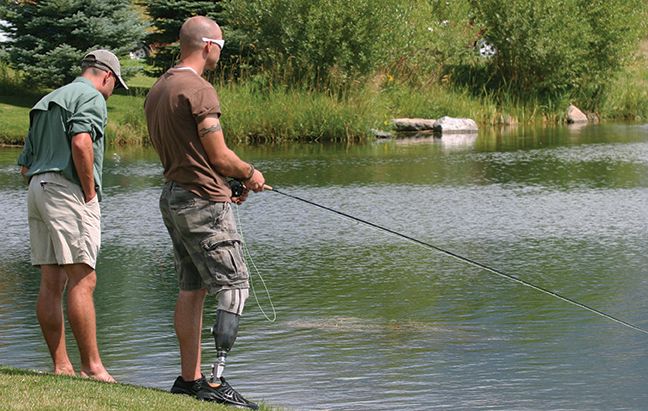 Another fly-fishing outfit—Project Healing Waters—is a national program with a chapter in Helena and programming in Bozeman. Healing Waters works with local Veterans' Affairs offices to help injured or disabled veterans from all of America's armed conflicts. Participants focus on camaraderie, outdoorsmanship, and the development of fly-fishing and fly-tying skills over an extended period of time, creating a lasting and long-term relationship between veterans and staff. "Project Healing Waters is unique in that our volunteers are teaching classes on an ongoing, long-term basis," says Bozeman program lead Jim Wenger. "We are actively supported by the local chapter of Trout Unlimited, which provides highly qualified guides for fishing, and instructors for casting clinics, fly tying, and fly-rod building." All materials and activities are provided free of charge to the veterans. Get involved at projecthealingwaters.org.
A familiar name around Bozeman, Eagle Mount, has developed its own program focused on helping wounded veterans in Gallatin County. Eagle Mount Bozeman Lasting Experiences for Military (EMBLEM) provides adaptive recreation opportunities for wounded or disabled veterans of all of America's conflicts, while focusing primarily on Iraq and Afghanistan vets. EMBLEM collaborates with the local American Legion Post 14 and our regional VA office to provide camaraderie and ability-focused events for local wounded veterans. From whitewater rafting and fly fishing to cycling and horseback riding, EMBLEM accommodates individual abilities and provides adaptive equipment for those who need it. Check out the program at eaglemount.org.
---
Aside from the nonprofits helping humans through fishing, there are also several focused explicitly on the fish and their habitat. Here are just a few:
Montana Trout Unlimited (MTU)
TU is the only grassroots organization dedicated solely to restoring and protecting Montana's cold-water fisheries. MTU helps keep our waters clean, cold, and full of fish. montanatu.org.
Upper Missouri Waterkeeper
The Upper Missouri Waterkeepers are tasked with the simple chore of ensuring healthy and sustainable water systems for basically all of southwest Montana—easy, right? Wrong. Their mission is to collaboratively establish long-term solutions to water issues facing southwest Montana, like pollution and overfishing. uppermissouriwaterkeeper.org.
Gallatin River Task Force
Dedicated to our backyard waterway, the Gallatin River Task Force focuses on river health, the dangers of residential and commercial development, and planning for future water management as Big Sky continues to boom. gallatinrivertaskforce.org.