Spring climbing on Billings' Rimrocks. 
Spring in Bozeman can be tough for climbers—the ice is long gone, but most of the local rock isn't quite dry or warm enough for climbing. Plus, after months of wading through kids at Spire, you're itchy for space, quiet, and the ability to curse loudly without admonishment. You could jump in your car and drive south for 10 hours with the rest of the heat-seekers, but there's another Montana option that's almost entirely overlooked: the Billings Rimrocks. 
Just two hours away, Billings is within striking distance for day trips from Bozeman, and most importantly, the climate is mild. Average daily high temperatures in March are around 50 degrees; in April they're pushing 60. That, coupled with a southerly exposure on most of the routes, makes the Rimrocks a comfortable early-season destination (but scorchingly hot in the summer).

The approach to the Rimrocks is easy and short—many of the climbs, in fact, overlook subdivisions—and there are dozens of mostly single-pitch trad and sport routes, and even more quality bouldering problems on the broken blocks littering the hillsides below the rim. It's not exactly Indian Creek, but strong climbers in particular can stay entertained. Bring your rack, your pad, and a cooler, and you're all set. As an added bonus for early-season loafers who haven't climbed since September, most of the routes can be top-roped.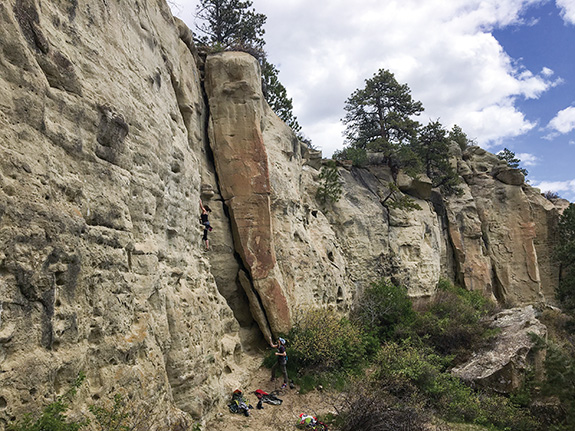 The cliffs are sandstone of generally poor quality (though established routes are fairly clean), with lots of crack climbing and steep pocketed faces protected by bolts. Always wear a helmet and belay carefully—erosion happens in far less than geologic time here. Warm up on routes like Betty Rubble (5.9) and Elephant's Slipper (5.10a), both of which take gear nicely, or jump onto one of the area's myriad four-star 5.11s, such as Brown Sugar (5.11a) or Next to the Last Best Route (5.11b). A local guidebook to the Rimrocks and local boulder problems, Super Sand Land, may be available at Steepworld climbing gym in Billings.
The bottom line is that warm, dry sandstone is only a couple of hours away. Trad, sport, bouldering—Billings has a wealth of climbing that deserves more attention than it gets. Give it a shot—what have you got to lose?
---