A look at an ice-climbing Mecca.
Every climbing area has a cardinal moment when someone first turns a corner and recognizes the potential. Of course, pioneers may push deeper into the periphery or bring an emerging vision or a new ability to previously known terrain. And in the process, they might "find" new routes of consequence. Yet none of these experiences replaces the inaugural instant when a climber's mind, molded with a climber's purpose, sees a place that's entirely untouched. For Hyalite, as for many places, this moment came by accident.
In 1968, in the midst of Yosemite's Golden Age, Pat Callis left California to take an assistant professorship at Montana State University, the backwaters of the climbing world. Here, Pat says, he found "miles of unclimbed crags" and "an instant bond with the small climbing community." In the late 1960s, Bozeman remained a deeply conservative town, its Main Street lined with cowboy bars and saddle shops. "You didn't want to stand out," climber Doug McCarty (then a long-haired teenager) recalls. "Once, some cowboys threw me up against a wall and pulled out a pocketknife to give me a haircut."
Nonetheless, a few rebellious youth formed the Wool Sox Club, modeled after the Creagh Dhu, a Scottish mountaineering group famed for its strict climbing ethics and social nonconformity. At age 30, Pat had already made first ascents of major alpine routes like the North Face of Mt. Robson in the Canadian Rockies. With moves like this, he quickly became a mentor to the younger, exuberant Wool Sox. "The anticipation of ice climbing was in the air," he recounts. Yvon Chouinard had begun designing chrome-moly crampons with sharp frontpoints and axes with curved picks. Although the first non-stepcutting ascent of Pinnacle Gully on New Hampshire's Mt. Washington was still two years away, Billings climbers Chad Chadwick and Wally Hunter were using piolet traction on true waterfalls in Montana's Beartooth Range.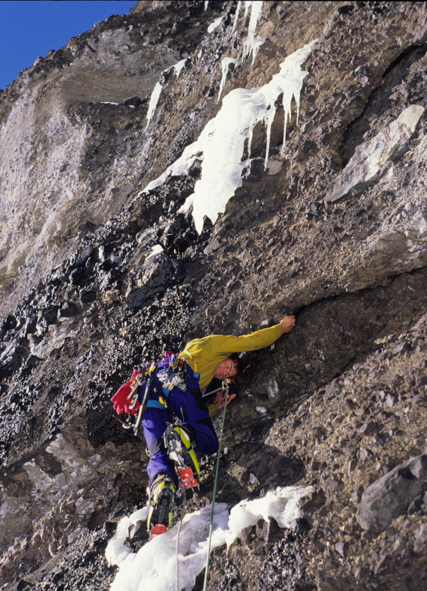 Alex Lowe on the first ascent of the Matriarch
Fearsome Spectacles
In the winter of 1970, Pat set off with another professor to go cross-country skiing around Hyalite Reservoir. When they reached the upper canyon, Pat was shocked at what he saw: "The columns and cascades of ice—seemingly everywhere—were almost certainly never before scrutinized… by a human with joyous adventure in mind… who desired to… use them as exhilarating pathways to nowhere…. It was a new world." These cascades were steeper than the bleachers in Butte and bigger than his small chunks of practice ice. As the first local guidebook author Ron Brunckhorst later wrote in Big Sky Ice, "the first few outings were learn-as-you-go."
Pat returned with Bozeman high school student Brian Leo and some of the latest gear: a Chouinard curved-pick ice axe and hammer, frontpoint crampons, and Salewa tube screws. They headed for the nearest icefall they could find. Only ten feet off the ground, Pat was terrified: "Fearsome spectacles kept appearing in my mind, such as the whole sheet peeling off as an ice piton is inserted, and… getting impaled on of the many sharp devices with which I was… bristling." Nonetheless, they made first ascents of Willow Gully and Mummy Cooler I without the occurrence of any "fantasized catastrophes" in 1972.
Today, unless you borrow antique tools, it's difficult to imagine the real challenges of the earliest routes. Most climbers overlook these 30-50 foot WI 2s, which seem like mere bulges, glimmering under the shadows of branches and the mask of snow—faint reminders of a time when every detail of this frozen world appeared unchartered, isolated, unpredictable, and new.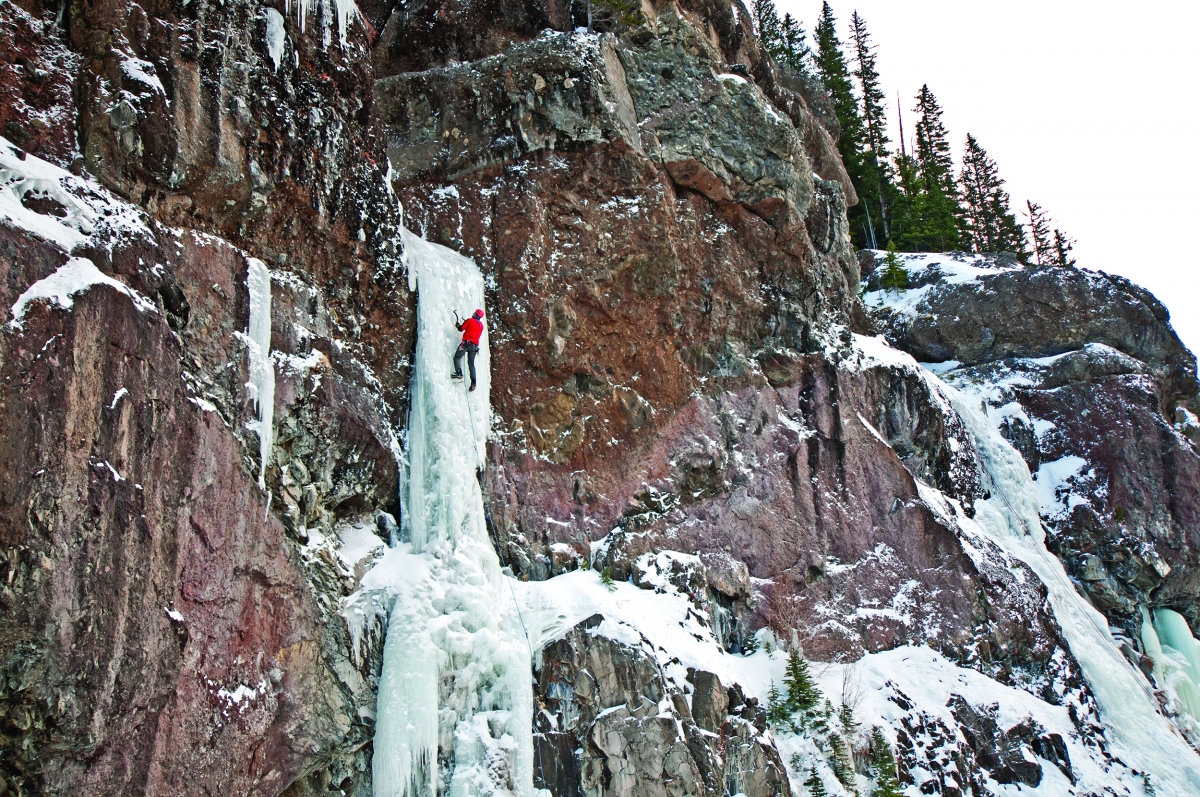 Fearsome spectacle or frozen playground?
Let It Be Known
Waterfall-ice climbing has an annual visceral excitement that may be unique to the games we play. When the fading autumn daylight casts a crisp shine across the forests, and white frost sprinkles everywhere like salt, climbers stir with an irresistible, almost frenetic energy. What's happening?
The Wool Sox Club dissolved in 1969 after Clare and four others died in avalanche on Mt. Cleveland. Two years later, a new band of adolescents started the Dirty Sox Club in the same spirit, a loosely organized group that included most of Montana's few climbers. According to Davey Vaughan, meetings often "involved a day or two of climbing and horribly wild and debaucherous parties," consisting of such activities as roasting stray pigs, attempting (disastrously) to ski down Doug McCarty's apartment stairs and seeing (with more success) how many people could smoke a hookah in his bathtub. "The only club rules were 1. Have fun (at any expense); 2. Discuss climbing; 3. Go climbing. Simple." (Big Sky Ice.)
Pat was still puzzling out modern ice-climbing techniques, and he passed on what he could to his younger friends. But many of the Dirty Sox youth couldn't afford fancy gear. They either borrowed the new equipment, made their own, or else managed with older axes, ice daggers, and coat-hanger screws. "Often courage and tenacity were the best tools one had," Davey concluded. "Foolishness, in some cases, was the greatest motivator of all." But the bewilderment was as irresistible to them as it was to me.
Peter recalls: I doubt that any of us would have been ice climbers if we had to read a book about it. Certainly part of the appeal was that it was a new thing, an adventure, and we were all young. Some of us made mistakes, tragic ones. A few of us were overt anti-establishment types, like Doug. For many of us, our climbing world was the only thing that existed. Pat was the only one with a regular job. But Pat never talked about the outside world that I remember. Climbing takes you to separate spaces. The setting can assist with that journey. Hyalite is one of those places. No one bothered us. We were so few. No one even knew what we were doing. The [Vietnam] War media frenzy might as well have been shouts from the moon. We could just live in this alternative universe. There was a singular urgency to those early winters.
Pat lay awake at night, "tormented by the realization of this special moment in our lives," and plotting how to seize as much of the "golden" days as possible. In 1971, as the autumn chilled again, Pat, Peter, Jim Kanzler, Doug McCarty and an eccentric friend called "Igor" continued up the longer icefall of Mummy II. Pat fantasized about extending the Mummy gully to the top of the ridge, "Scottish style," complete with bivouac. Over Thanksgiving weekend, he and Jim climbed a thin, high-angle flow that coated the smooth andesite on the next tier of rock. The first ascent of Mummy III occurred with no recognition, locally or otherwise. And yet it was as difficult as New Hampshire's Black Dike, one of the most famous and feared routes of the era.
In 1975, Jeff Lowe joined Pat and Jim for an attempt on Robson's Emperor Face, and he stopped at Pat's house on his way home to Colorado. Jeff showed the Montanans that it was better to put your wrist directly through the leash and twist. Although Pat's article finished with a welcoming proclamation—"Let it be known that one can be virtually assured of finding good ice climbing in Montana from mid-November to the end of April"—most traveling alpinists bypassed Bozeman. Hyalite's rugged, unplowed roads stunted new-route development, while its complex micro-topography forced aspirants to slow down and hunt for its secrets, one by one.
The Wall with No Name
For the first decade, Hyalite climbers had focused on the fat crystalline waterfalls. Tinged with slight regret, Pat recalls, "It never occurred to us, back then, to start rock climbing to reach the ice." Throughout 1984, Jack Tackle and Alex Lowe partnered for the flows and drips that lined a sunny half-mile-long andesite cliff near the parking lot. Jack says, "From the very beginning, Alex looked up at the tantalizing icicles on the Unnamed Wall and imagined them as routes. But either natural gear wasn't there or we just had too many ice routes still to do." Then in 1986, after partying all night at a B.B. King Concert, Jack scampered up a loose chimney with David Gerhard to reach the gradually thickening ice of The Thrill Is Gone. Although easy by today's standards, the route epitomizes traditional mixed climbing. Even on the rare occasions when the doublewide chimney chokes with ice clear to the ground, you spend more time looking behind you for features than facing the narrow hose before you.
Nearby, another thin line poured out of a shallow gully in one consistent smear, only to end at a small roof. A tiara of yellow icicles dangled off the edge above a corner of dark-brown andesite. That same winter, Alex skied through the early morning dark to try the route with his wife Jenni and Pat. In her memoir Forget Me Not, Jenni recounted that just as the stars flickered out, a great horned owl floated by, and Alex declared it was a good sign. He gripped the stone with bare hands and plastic boots, "whooping and exclaiming about how much fun it was, while Pat belayed with a bemused smile… making quiet comments such as 'I'm glad I'm not leading.'" At the no-hands rest halfway up, Alex stopped to put on his crampons. "The magic happened as you moved left and gingerly switched from climbing rock to hooking axes in the thin curtain of ice," Pat related.
They named the route Black Magic. With this new vision, Hyalite climbers noticed more of the evanescent streaks amid the dark walls of the canyon—as if some enchanted writing had indeed become legible. For years, locals had gazed up at the pitch above Mummy III, wondering. At last, in 1986, Alex craned his head back at the right moment: above the decomposing wall of overhanging cobbles and moss, the hint of ice had grown into a wildly chandeliered column. Soon he and Canadian alpinist Perry Beckham added one more segment to Pat's original dream. Perry and Alex had a family Christmas to attend, so they turned back after Mummy IV. But Alex told Perry there might be even more ice above.
Scratched and Clawed into the Rock
In 1993, after wandering from the oil fields of Wyoming to the slopes of Mt. Everest, Alex settled back in Bozeman with Jenni and their sons. He and Doug Chabot bought a snowmobile to access Hyalite after the road closed. Between February and April, they hunted for previously unknown, late-forming routes in an almost empty canyon. To the right of Cleo's, Kris Erickson recalls, "Chandeliers of ice dangled down the overhung sections until each drip fell into space, leaving the bottom dry. A new route would have to be scratched and clawed into the rock." In December 1996, Kris, Alex, and talented visitors like Barry Blanchard and Mark Wilford attempted the line. No one could get past the first ten meters of questionable rock and gear.
Alex spent January climbing in Antarctica and thinking about the route. On February 11, he phoned Kris from the Denver airport. Within hours of arriving in Bozeman, he and Kris jumped on a snowmobile and rushed out into the cold, dark canyon. As the morning sun touched the wall, the rock warmed just enough for Alex to climb it without gloves. "This time," Kris remembers, "Alex danced through the lower moves with newfound confidence." Water dripped from above. Alex rock-climbed with one hand, delicately aiming his axe with the other. "It was the only option," Kris says. "Too much swinging onto the ice and it would all come crashing down." Alex tied off chicken-head cobbles for protection while he crept up. "Mid-swing, as he was about to weld the axe into some solid ice, his foot slipped, and out of reflex he threw his free arm around the tiny column of ice, feet dangling and scratching against the wall." Alex sunk his tool into the pillar and yelled down, "Now that's what I call a self-arrest."
The Matriarch (5.11 WI 7 R) had pushed the ground-up, natural-gear style as far as it could go at the time—and as perhaps only Alex could have done it, with his uncanny strength and talent for finding hidden placements. It thus ended a quest he'd started a decade earlier and precipitated another.
Expanding Horizons
On crags around the world, "M-climbing" was beginning to look almost like a form of winter sport climbing: climbers had started to bolt and work the gymnastic moves of harder routes in preparation for redpoints. Since the early days, Hyalite climbers had maintained a strong traditionalist culture. In 1996, Pete Tapley had established Shores of Pluto, with Jack Childress, a "good fun, don't fail" smear that tapered to a thin hose and gained him a reputation for boldness. Two years later, he made multiple ground-up efforts to establish a direct start to Responsible Family Men, up an overhanging wall of loose, mossy rock, before placing the last bolt on rappel.
Overnight, he found himself at the center of a brief ethics war. Will Gadd, who redpointed the route with Pete, used the M grade here for the first time and declared Juvenile Delinquents the "first modern route in Hyalite." Alex was still wearing a knee brace after a full ACL reconstruction. But he was intrigued enough to hike up with Pete to attempt the climb with a rock shoe on the foot of the injured leg and a crampon on the other. Pete recalls "getting raked over the coals by my hero" about rap-bolting. At least one of Pete's bolted routes got chopped. Gradually, however, perspectives cooled. Today, some of his lines, like the stone roof and ice dagger of Bulldog World, are considered classics. Traditional and "sport" mixed climbing now occur side by side in Hyalite amid an atmosphere of acceptance. More than any other word, it's intimacy that crystallizes as the spirit of the place. The passageways amid the woods and gullies both disperse climbers and bring them together.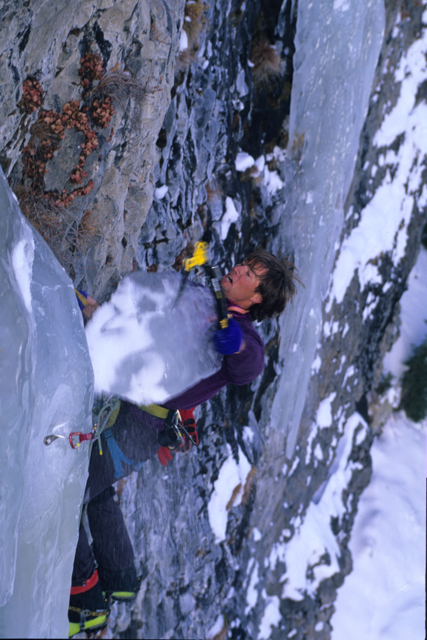 Alex Lowe on Grassroots Revival.
Parking Lot
On December 26, 2007, the county made an experimental plow to the end of the road. Climbers, skiers, ice fishermen, hikers, snowboarding teenagers, and sledding scout troops flocked to the canyon's deep snows and thick ice. We called it the great Hyalite Love Fest. All at once, the county recognized the community's overwhelming attachment to this place. The road is now plowed from December 1 to March 31, contingent on funding. The ice season is no longer a six-to-eight-week frenzy for those who lack snowmobiles or the time for expeditionary approaches. There have been 50 new routes since then, in every imaginable style, from once-ignored ice smears to M9+ bolted routes and big winter chossaineering lines.
In March 2010, Sam Elias climbed a roof that angled down for 50 feet, then turned the lip onto another 100 feet of dripping, chandeliered, and gloriously untouched ice. Inglorious Bastards, a project begun by Conrad Anker and Pete Tapley, is among the hardest mixed routes in North America. But as Sam gazed out across the valley, he stopped thinking about the technical difficulties: "For me, Hyalite is a special place shrouded in the mystique of legendary routes and climbers. I might be romanticizing and embellishing, but I feel an electricity in the air in that canyon."
The House of Hyalite
Despite the plowed road, a midwinter quiet still descends upon the canyon's hidden places. Nearby parties vanish quickly behind stands of trees. Skiers leave their ice gear behind once the snow gets good. Far from the classroom atmosphere of Genesis I, the seldom-visited areas of the East Fork and Flanders contain untouched treasures for those willing to return to earliest days of Hyalite exploration, skiing for miles after vague glimmers.
But perhaps that's what we're all looking for here, whether we realize or not—vestiges of some lost, unwritten time when all the world was wild and wood. "The deepwood has vanished," Robert MacFarlane explains, "but we are still haunted by the idea of it." Lying awake in our houses at night, we think of the canyon darkening the edges of our town, filtering into our dreams. At times, we dawdle with unlimited fascination over the smallest details of its ice; at others, we dash as fast and high as we can, our visions outstripping our current understanding. Gradually, we begin to remember something children know: that the Unexplored doesn't just mean faraway summits and arctic lands. Each detail of our existence awaits to be rediscovered.
"Hyalite provides," as the saying goes, for those who choose to accept the canyon for what it is. Like the backyards of our childhood, each drainage beckons us deeper and deeper into the woods. Perhaps that's why ice climbing here feels so much like coming home. You open the door, and find the world has been re-enchanted with ice and snow. Step across the threshold. Everything is inside.
---
Adapted from Alpinist.