Ice climbs beyond Hyalite Canyon. 
On the northern fringes of the Greater Yellowstone Ecosystem, over 225 ice and mixed climbs lie easily accessible in what has become an ice-climbing mecca: Hyalite Canyon. Hyalite's classic climbs are consistently in shape December through April, making it the most reliable—and arguably, best—ice-climbing arena in the U.S. However, with its plowed roads, the place can get downright crowded. Fortunately, solitude can be found by venturing deeper into Hyalite—or into other climbs in the area. Cody is of course the nearest comparable spot, but beyond Hyalite and Cody there are also a plentitude of water-seeping conglomerate cliff bands and alpine faces within a reasonable drive from Bozeman. Here are a few: 
One seldom-visited route is a climb up Indian Creek in the Madison Range, the drainage on the Sphinx's south side. I skied into this climb a few years back to repeat a fun WI 3-4 outing with three pitches of climbing. The wind and fallen daggers had created some wild overhanging ice umbrellas on the last pitch, and yet they were relatively easy to bypass with some creative stemming. If the first pitch isn't in, place gear and pitons in the crack to the left of the ice. The approach is about two hours, conditions dependent. Due to its southerly exposure, this climb forms and falls multiple times in a season, so if it isn't in, try again at a later date.
Other seldom-visited climbs are in and around Yellowstone National Park. The routes are often obscured, avalanche knowledge is a must, and there are seldom any bootpacks, so plan on skiing or postholing to access routes. Of the classic WI 5 routes is Jack Tackle's Petrified Dreams. It may just be the best in the region. Dreams isn't always in shape, and the approach can be a bit arduous, but it's well worth the effort. Bring a single set of cams for an optional start via a loose crack to the left of the ice in case the first pitch isn't in, then traverse an unprotectable ledge to gain the route. There is also an alternate finish to this classic by way of a thin ice runnel.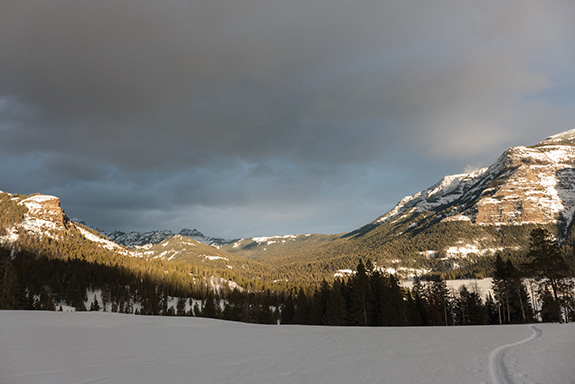 Pebble Creek, Yellowstone National Park
In the same area lay a number of high-quality three- to four-pitch mixed lines on the cliff bands looker's right of Dreams, each of which is WI 5 to WI 6+ with mixed climbing up to M7. Bring a single set of cams, nuts, ice screws, double-length slings for cobbles, and two ropes. All of the water lines on this band have been climbed and they are easily located from the road or the same parking area as per Petrified Dreams. Rappel the routes.
For more moderate terrain outside Hyalite Canyon, Pine Creek and other drainages in Paradise Valley contain many classic routes. If you don't mind skiing a few (read: almost 10) miles, Mount Cowen has a massive wall of ice just above Elbow Lake, and depending on the route you choose, difficulties range from WI 3–WI 5. The spring objectives in this cirque still await new routes.
---
Sam Magro owns of Montana Alpine Guides in Bozeman.