Taking time to smell the roses. 
When from our better selves we have too long / Been parted by the hurrying world… —William Wordsworth
As we step out of the trees, a swath of scarlet appears on the horizon, arresting our gaze. We plop down at the cliff's edge. A sea of grass spills out before us, vast and calm beneath the darkening sky. Our hands find each other and we squeeze a silent, shared tribute to this unexpected visual delight.
The shrill cry of a kestrel—killee-killee-killee—breaks the spell, and we turn to watch the colorful little raptor perched atop a ponderosa, calling to his mate. Joining the avian chorus is a hawk's piercing wail, and, off in the distance, the pulsing baritone of two incoming geese. The dichromatic duo soon passes by, drowning out all ambient sound before fading once again.
We found this place by a stroke of fortuity—or rather, velocity. Trundling down the highway at 55, in no particular hurry, we'd spotted an eerie assemblage of rock formations jutting out of the prairie, scattered amid a broad tract of juniper and pine. The map showed it to be public land, so we pulled off, parked the truck and trailer, and set out.
Now, as scarlet and blue fade to black, we amble our way back. No camp chores beckon: no tent to erect, no sleeping pads to inflate, no cooking gear to unload and set up. Instead, a self-contained camper awaits, where we'll prepare dinner in a kitchen, play chess at a table, and sprawl out on a queen-sized bed. We return along a circuitous route, reveling in the sights and sounds of the forest: "of splendor in the grass, of glory in the flower," to borrow Wordsworth's effusive parlance.
Truth be told, we'd been skeptical of hauling a turtle-shell around for five days, as we toured eastern Montana, retracing the route set forth in the last issue of Outside Bozeman (Spring 2017, p. 96)—Miles City, Makoshika, the Little Bighorn Battlefield. For longtime mountain-dwellers, the wide-open prairie is a magical place, and we wanted to soak in as much as possible. We had loads of gear and plans to use it all; we didn't want anything slowing us down.
But as it turned out, slowing down was just what we needed. With a one-ton tiny home behind us, we drove slower. We stopped more often. And in the process, our minds and bodies slowed down, too. We fell into the natural rhythm of our surrounding environment—which, in eastern Montana, involves a much slower pace than bustling Boz Angeles.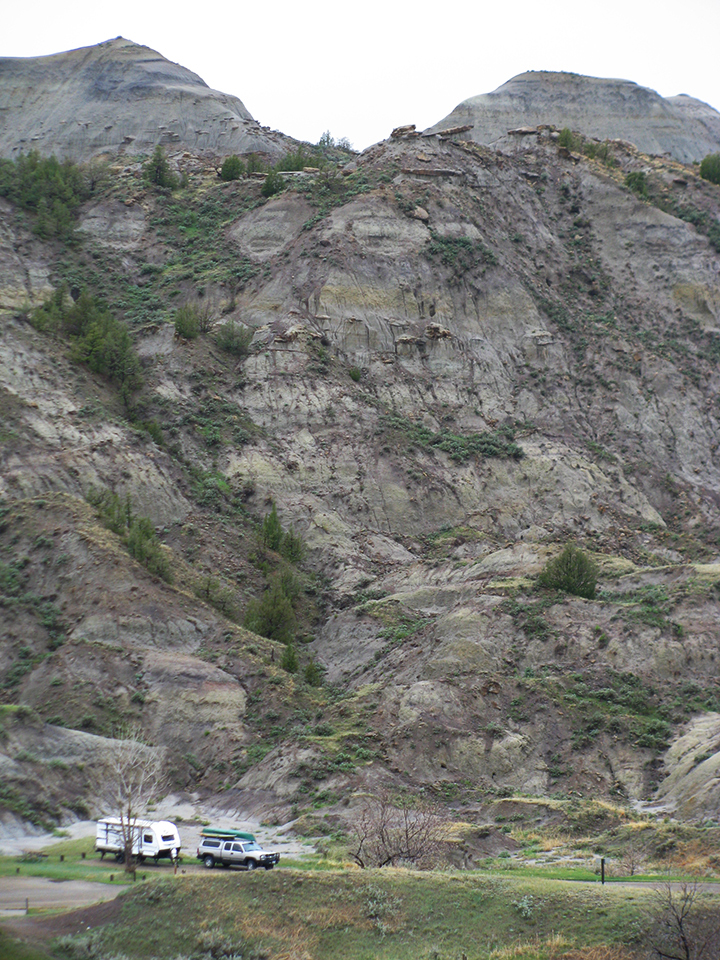 And so we wandered, as Wordsworth put it, "lonely as a cloud." At a rest area outside Miles City, we noticed steps leading up a hill behind the restrooms; venturing up and along a wooded trail, we emerged in a clearing where the rolling, ponderosa-flecked hills spilled out for miles. The hazy afternoon light cast long shadows across the coulees; the smell of juniper and sage filled the air; hawks floated in the breeze. We looked at one another in astonishment. It was the most breathtaking—and most unexpected—vista we'd seen in a long, long time.
At the Iron Horse Saloon in Forsyth, we played shake-a-day with the bartender and won a free drink with a lucky roll. At Makoshika, we left the trailer at camp and rolled into Glendive for a long, leisurely supper. We stopped for coffee at the Palace Café in Wibaux; an hour later, we bid our new friends—a young waitress and a grizzled old rancher—a reluctant adieu. And after a delicious lunch at the Dawg House Pub in Ekalaka, we tossed a Frisbee around the town square, then strolled into the Carter County Museum for a live taxidermy demonstration and spear-throwing practice out back.
Among all these small-town experiences, we still managed to hike every day. We immersed ourselves in the landscape, but instead of the road-trip equivalent of a trail run or speed-hike—an action-packed agenda from which we'd likely have returned exhausted—it was more of a saunter, an amble, the proverbial mosey: a mellow nature hike where we stopped and actually smelled the roses—or in this case, the yellow peas, prairie flax, and milkvetch that peppered the prairie in vibrant hues.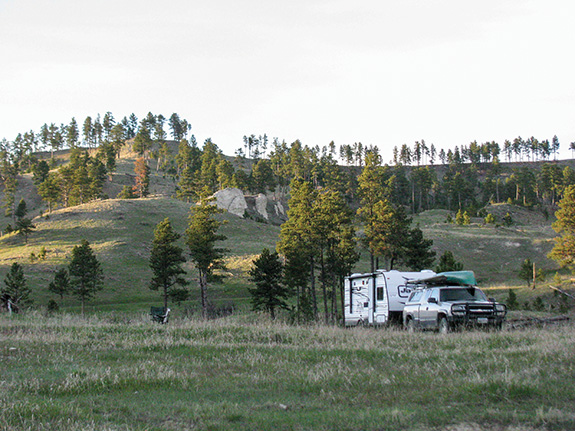 One final foray: the Long Pine Hills, an island of green clawing its way out of the prairie, a stone's throw from the South Dakota border. We followed a dusty brown ribbon deep into the hills, weaving through side-canyons and sandstone bluffs. A herd of mule deer grazed above a dry streambed; we stopped and watched as they gradually melted into the trees. The sun sat low in the sky as we bounced off into a clearing toward a patch of flat ground. After a sunset hike to a high ridge, we clambered back down toward camp, to cold beer and a warm bed. As we climbed under the covers for our last night out, we sighed in deep contentment: it had been one hell of a trip, slow and easy and utterly restorative. And we felt pretty confident that Wordsworth, that great unhurried rambler, would have approved.
---
Jayco Jay Flight SLX 174BH
The challenge for those who want to haul a camping trailer—apart from being teased about getting soft—is finding a model that offers all the desired comforts without compromising outdoor opportunities. We chose the Jayco Jay Flight SLX 174BH Baja Edition—not too big, not too small, and plenty of clearance for the bumpy back-roads of Montana. At 21 feet tip-to-tail, it's short enough to fit in most designated campsites; but with all that clearance, and its light weight, you won't need one. Just find a flat spot, drop the four stabilizers, and voila: camp is officially set up.
The kitchen was sized just right, with enough counter space for proper meal-prep. A deep pantry held all our essentials, and the windows let in plenty of light—important for preventing cabin fever on cold, rainy days. We liked the open floorplan, as we could move around freely without bumping into one another. The table was the perfect size for eating, playing games, and mapping out our next adventure, while the fixed queen bed meant we could crash in comfort with no setup time.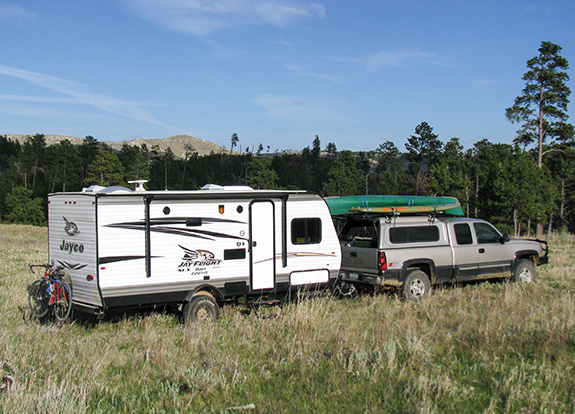 It being just the two of us, we used the bunkbeds to hold all our clothes and personal items, so everything remained tidy and organized. The large, electric awning offered additional protected space, the arms of which served as a handy drying rack for wet clothes. Having a toilet proved worthwhile when the outhouse was nasty or nonexistent, and a warm shower sure was nice after a long, wet hike through the eastern Montana mud.
Rounding out the virtues of this trailer is the abundant cabinetry—plenty of room for all the little convenience items that one invariably brings along. All in all, it did exactly what we wanted it to: soften the sharp edges of nature without denying us any of its splendor. Available at Big Sky RV. $15,434 plus freight; jayco.com.