Top spring floats in southwest Montana. 
The great thing about spring in Montana is that you get to float what you skied all winter. Rivers are swelling with snowmelt, buds are bursting, geese are honking, ducks are mating, beavers emerging: it's time to dust off the paddles, dig out the PFD, change out the roof racks, and hit the river.
But which river? All our local rivers have at least some floatable water for intermediate boaters. Peak runoff (generally late May until late June or early July) can be dangerous and should be left to the experts. Plan your trip in April or May before the rivers really get cooking. With this past winter's huge snowpack, runoff is going to be huge, and all that water has to go somewhere—why not go along for the ride?

Jefferson River
The Jeff is generally user-friendly and covers a lot of ground from its origins above Twin Bridges down to the Missouri Headwaters State Park. On this river, you're following in the wake of Lewis and Clark; cottonwood bottoms, islands, and backwaters all add beauty to the history. There are few obstacles, though a diversion dam below Parrot Castle and a railroad bridge below Drouillard can be tricky. When in doubt, scout it out. See jeffersonriver.org for campsites, shuttles, history, and maps.
Madison River
This is Bozeman's go-to river for an easy float. Mid-summer, avoid the Bikini Hatch stretch—below Bear Trap to Black's Ford. In the off-season, it's a fine trip with easy shuttles and scenic cliffs and wildlife keep it interesting. Alternatively, put in at Black's Ford and take a half-day float to Cobblestone or an all-day adventure to the Missouri Headwaters. Don't try the Bear Trap Wilderness section below Ennis Lake unless you are a Class-V expert or prepared to portage. Above Ennis Lake, the Maddy is generally pretty rocky but worth floating for the fishing.
Missouri River
Put in at the Headwaters State Park and spend the day floating to Fairweather fishing access. It's easy and quiet. Or start in at Toston and make the gorgeous trip to Townsend. The Missouri is Yellowstone River-sized, but considerably more mellow, and doesn't get the float-fishing pressure on these sections.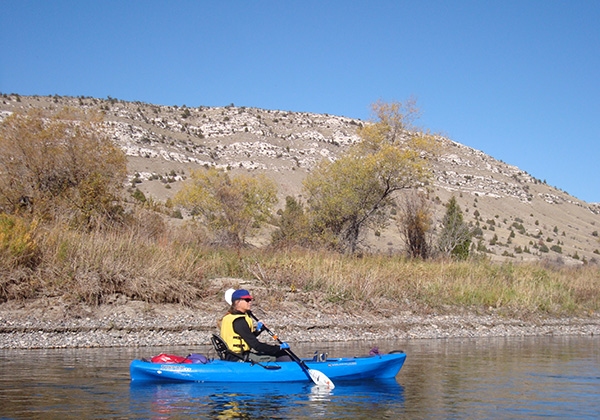 Movin' slow on the mighty Mo'.
Yellowstone River
If you're feeling adventurous, check the flows on the Yellowstone. This river is generally friendlier in summer and fall, but certainly doable in spring, pre-runoff, if you're careful. Forget it during runoff unless you want a wild ride—the whitewater in Yankee Jim can be huge. Paradise Valley has a number of good access points so you can easily put together a half-day or full-day float. The Livingston stretch to the Hwy. 89 bridge is somewhat trickier and better tackled with warmer, lower flows. Beyond that, it's great floating all the way to Billings and beyond. Islands are public land so you can choose your own island for a camp site.
Gallatin River
The Gally is famous for the Mad Mile in Gallatin Canyon, a fantastic trip for rafts or kayaks. This is not canoe country, however. Below the canyon, the river tends to be heavily braided with a lot of sweepers (trees in the river) until you reach Nixon Bridge. Logan to Headwaters is a fine float, other than the huge walls of rip-rap that pen in the river.
East Gallatin
The Least, as locals call it, is really only floatable in the spring. It's great for wildlife sightings: pelicans, deer, eagles, kingbirds, families of mergansers, beavers, even otters are often sighted along this slow little river. It's possible to put in just below Bozeman, but better to go further down river north of Belgrade.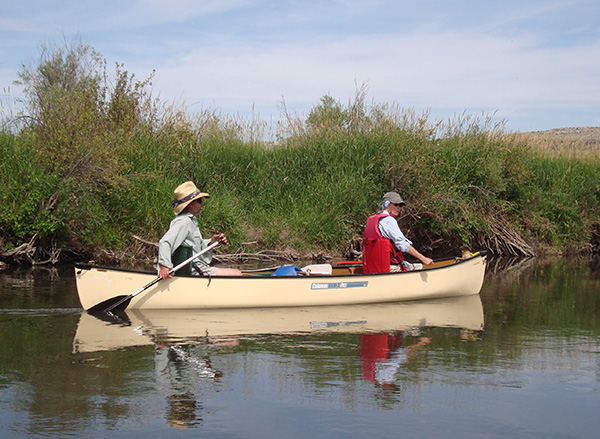 Out in the valley, the East Gallatin mellows.
Smith River
If you're among the lucky few who've scored a Smith River permit, you're in for a fabulous 59-mile roadless river expedition. It's possible to float it pre- or post-permit season (before May 15 or after July 15) or score a canceled permit last minute. This is one of the nation's premier float trips. Be ready for all kinds of weather and be careful if the flows get much above 1,000 CFS (cubic feet per second).
Logistics
Canoes, kayaks, rafts, and drift boats are good choices for spring floating in southwest Montana. Of course, the rivers are going to be cold and often muddy. Save the paddleboards and tubes for summer. Expect cold, wet weather, bring a dry bag of extra clothing, and fire starter in case you swim.
 You are allowed access to all rivers below the high-water mark, but beware of private property when you get out of the boat. Use established fishing-access sites to launch and take out, and pack out what you pack in. Try shuttlesnap.com if you need a river shuttle, or pack your bicycle in the canoe for shorter shuttles. Check stream flows and other river data before heading out.