Exploring Bozeman by bike. 
Bozeman may be a mountain town, but that doesn't mean you have to ride mountain trails. Weaving through the city are an abundance of trails—over 80 miles at last count, and that's just in Bozeman proper. Many connect to other areas just outside town, meaning you can saddle up at your front door for rides short and long, slight and strenuous. The best part? Being in town, they pass within striking distance of your favorite restaurants, bars, and coffee shops, so you can fuel up before your ride and wind down after.
It wasn't always this way. Since the early '90s, the Gallatin Valley Land Trust (GVLT) has been hard at work beefing up our in-town offerings. The network in progress is already impressive, with a wide variety of terrain: tight singletrack, grinding gravel, and mellow streamside meandering. There's something for everyone, and for every kind of bike. GVLT has a detailed map, available in print or online, outlining all these trails.
To make things even easier, we've lined out three sample rides, complete with pitstops along the way. So hop on your hardtail, climb aboard your crossbike, or straddle your street cruiser—Bozeman's in-town trails await.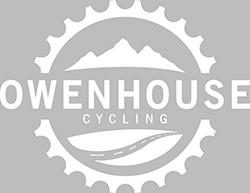 Northside
Are you an early bird? Treeline Coffee Roasters on N. Wallace opens at 6:30 every day, meaning you can enjoy that essential morning cup o' joe and be on your way by 6:45. If you're fiending food, wait for Wild Crumb to open at 7 (closed Mondays). Their shop is right next door to Treeline and their fresh-baked pastries will fuel any length ride (we're partial to the ham-and-cheese croissant). Now it's time to ride, and the trails on the northside offer endless options.
From Wild Crumb, head north on Wallace. After crossing the train tracks, hook up with the Story Mill Spur Trail on your left. In under a mile, it takes you from the industrial heart of Bozeman, through wildlife-rich wetlands, right into cattle country. You'll cruise under the interstate and over Rocky Creek, passing the Story Mill Community Park site. This ride will only get better, as the new 60-acre park will offer more trails, expanded fishing access, and benches for picnicking. (See page 21 of our upcoming summer issue for details.)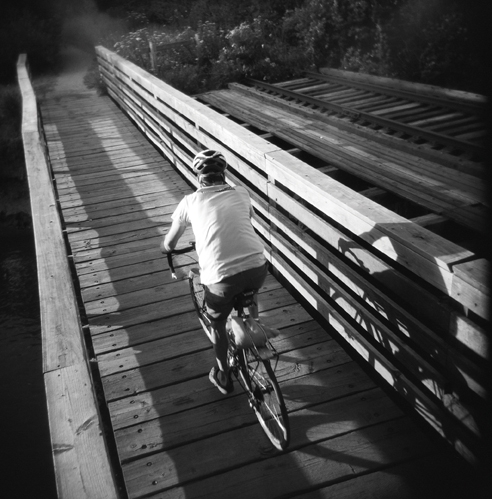 Riding over Rocky Creek
The trail dumps you out on Story Mill Rd., where you'll hang a hard right and pass under the Story Hills arch. This is where the grind begins—a long, steady lung-buster on a smooth dirt road winding its way uphill. (Note: the Story Hills are private land and are occasionally closed for ranching activities; watch for signs and adjust your route accordingly.) For your first lap, take the road to warm up your legs. About halfway up, views of the valley spread out before you; on the western horizon, the snow-capped Tobacco Roots loom large. Hyalite beckons from south of town and the west flank of the Bridgers angles out to the north. A smile will commandeer your countenance and you'll remember exactly why you live here.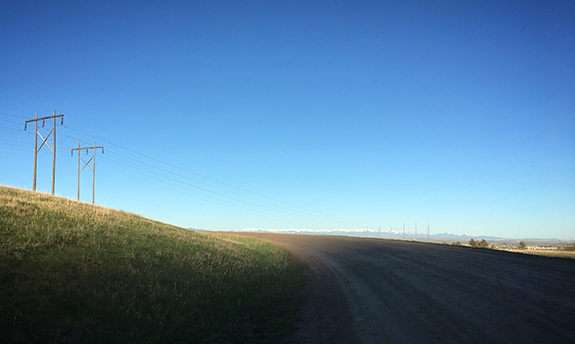 Halfway up Story Hills
At the top of the climb, keep your eyes peeled for a GVLT trail map marking the downhill singletrack. It's tight and fast, and while most people travel the route downhill, be mindful of other bikers or hikers coming up. Once the trail deposits you back at the dirt road, opt for another lap or head back out the road.
If other obligations beckon, so be it. But if you've got the time (and energy), take Story Mill Rd. across Bridger Canyon Rd., hanging a quick left after the blacksmith's shop to hook up with the East Gallatin Rec Area trails to the west. Expect low-vis cornering, along with trail-runners and dog-walkers—this is not the spot to satisfy your need for speed. But the labyrinthine network is smooth and shaded, offering a good spot to wind down and take a relaxing cruise before slogging your way through the ol' nine-to-five.
If post-work rides are more your style, no problem; the trails don't close and beer is just as good as coffee. Luckily, Bozeman Brewing's tasting room is located nearby on N. Broadway, and a locally-brewed pint is the perfect way to quench your post-ride thirst. If you're really thinking, you'll grab a Double Pint Can before your ride, so you can pause atop the Story Hills and enjoy a barley pop with a view. Bozeman Brewing has several seasonal rotators on tap, and we're really digging the Montana Common.
Downtown
As downtown gets more crowded, Bozemanites continue to complain about parking. Our solution? Ride your bike. It's a good way to avoid road-rage and it'll help burn off those happy-hour calories. Lately, we've been packing ours on at Fresco Café's creekside patio. Their happy hour is from 3-5pm, so if you find yourself a bit peckish in the late afternoon, keep this Italian hotspot on your short list. Get lubed up with a lamb burger and a Peroni, but avoid the full tune as you'll need your wits about you while cruising Main Street. If your bike needs some love, stop in at Owenhouse Cycling and chat with any of their shop techs. Ask about their weekly group rides, which are great for strong riders new to the area.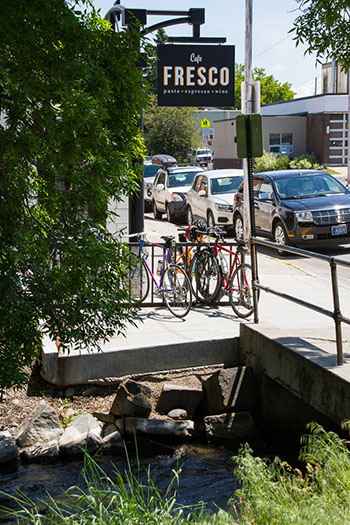 Plenty of (bike) parking at Fresco
Make your way east along Main and hook up with the Burke Park trail behind the library. Cruise the paved path to Church and cross over to the Gallagator. This old railroad bed is flat and wide: perfect for an evening meander. Along the route, there are several opportunities to pull over and mix things up. Solve a few problems on the Langohr Park boulder, then check out the community garden. Turn around at Kagy and head back the way you came. If you're still feeling frisky, ride through Lindley Park, cross Highland Blvd., and make a lap around the softball fields.
For those with knobby tires, instead of turning around at Kagy, hang a left and head east to Church, then turn north back toward Peets Hill. You'll notice singletrack climbing the grass-covered hillside on your right; take it. From the top, you can extend your ride by crossing Highland Blvd. and riding the Highland Glen Nature Preserve trails across from the hospital, or coast back downtown along the wide-open ridge, valley views all around.
Southside
South of Kagy, the trail system continues to impress. Cross the busy east-west corridor at S. 3rd, but first, fuel up at the Daily Coffee Bar on W. College if you're making your way from that part of town. Grab a pastry to go and an iced blend before cruising through campus on your way to the Sourdough Trail. If you're already on the east side, Sola Café is the place to go. They serve breakfast, lunch, and dinner, so you can fill up no matter the time of day. Belly full and thirst quenched, hop on the Sourdough Trail at Graf Park and grind due south toward Tuckerman Park. This is a warm-up for the more challenging singletrack awaiting you at the Triple Tree trailhead.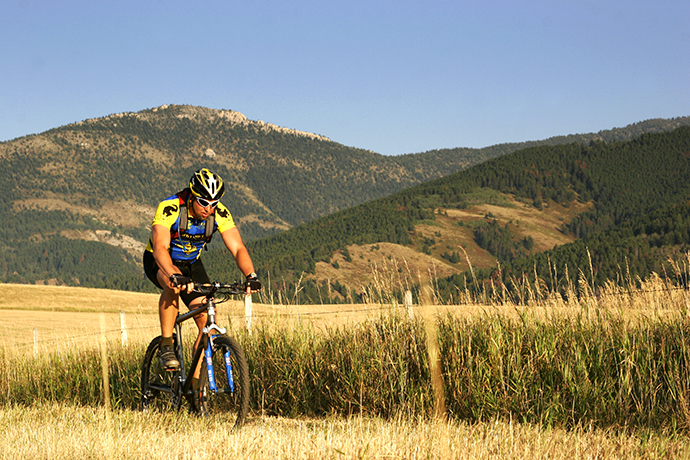 Above the Triple Tree parking lot
Once you reach Goldenstein, turn your handlebars east toward Sourdough Rd. You'll be back among the cars at this point, so be alert. At Sourdough, hang a right and ride south to the Triple Tree trailhead, another 1.5 miles on.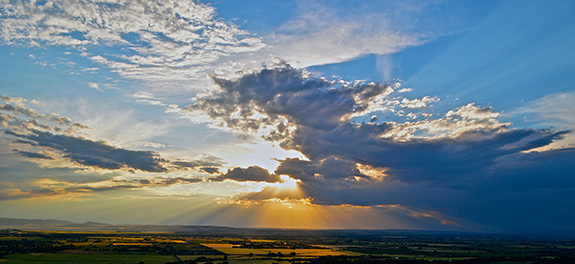 Views from Triple Tree never disappoint
Although Triple Tree is entirely singletrack, it isn't overly technical, so a hardtail will serve you fine. The trail sees a lot of traffic, so if the parking lot's full, plan for some company and a slower downhill. The trail winds up the foothills of the Gallatin Range for about 1.5 miles, topping out at expansive views of the valley. This is an awesome place to be come sunset. Just remember your headlamp for the ride home.