Fall mountain biking in Whitefish. 
Certain bucket-list items never get checked off. They move from one sheet of paper to the next, always written in ink but never struck through by Sharpie.
On my bucket list, that item is fall mountain biking in Whitefish. For years I've wanted to head north as the leaves turn and ride singletrack lined with fluorescent-yellow larch. I've dreamed of hitting that sweet spot between late summer and early winter, after the heat and hordes but before impatient flurries coat the hillsides. This fall, a photographer friend and I finally bit the bullet and made plans to get out of Dodge the first week of October—and then the weather report came out.
They were calling for up to ten inches of snow in the high country, blocking us out of the epic alpine ride we'd planned on, plus steady rain in the valley, ensuring greasy trails everywhere else. The storm was forecast to hit Sunday night through Tuesday, the exact timetable for our trip. We were as deflated as a couple of pinch flats.
All signs pointed to bailing, but then I thought of my list. If I didn't go now, when would I? I wanted that ink obscured by felt-tip.
Double-checking the weather, I decided to dash to Whitefish Friday in an effort to beat out the storm. My friend's schedule wasn't as flexible, so I'd be on my own, meaning the epic I'd hoped for was still out of the picture. Unsettled weather had already moved into the area, but it was hovering in the high country, leaving the hills dry. After a quick glance at a trail map, I decided the Whitefish Bike Retreat would make a perfect basecamp. They'd have the beta I needed, and their lodge is 200 feet from the Whitefish Trail, a resource I'd been wanting to check out.
At the Retreat's main office, I met owner Cricket Butler and some of her staff. Forty-five minutes after walking in the door, we'd solved the world's problems in a caffeine-induced brainstorming session that could only be capped off by rushing out to ride singletrack. Access to trails is out the office's front door, and within two minutes, we were grunting our way up handbuilt switchbacks that gradually climb off the Retreat's private land and onto an adjacent state piece. Within these few short minutes, my insistance on rushing to Whitefish was validated—and the best was still in front of us.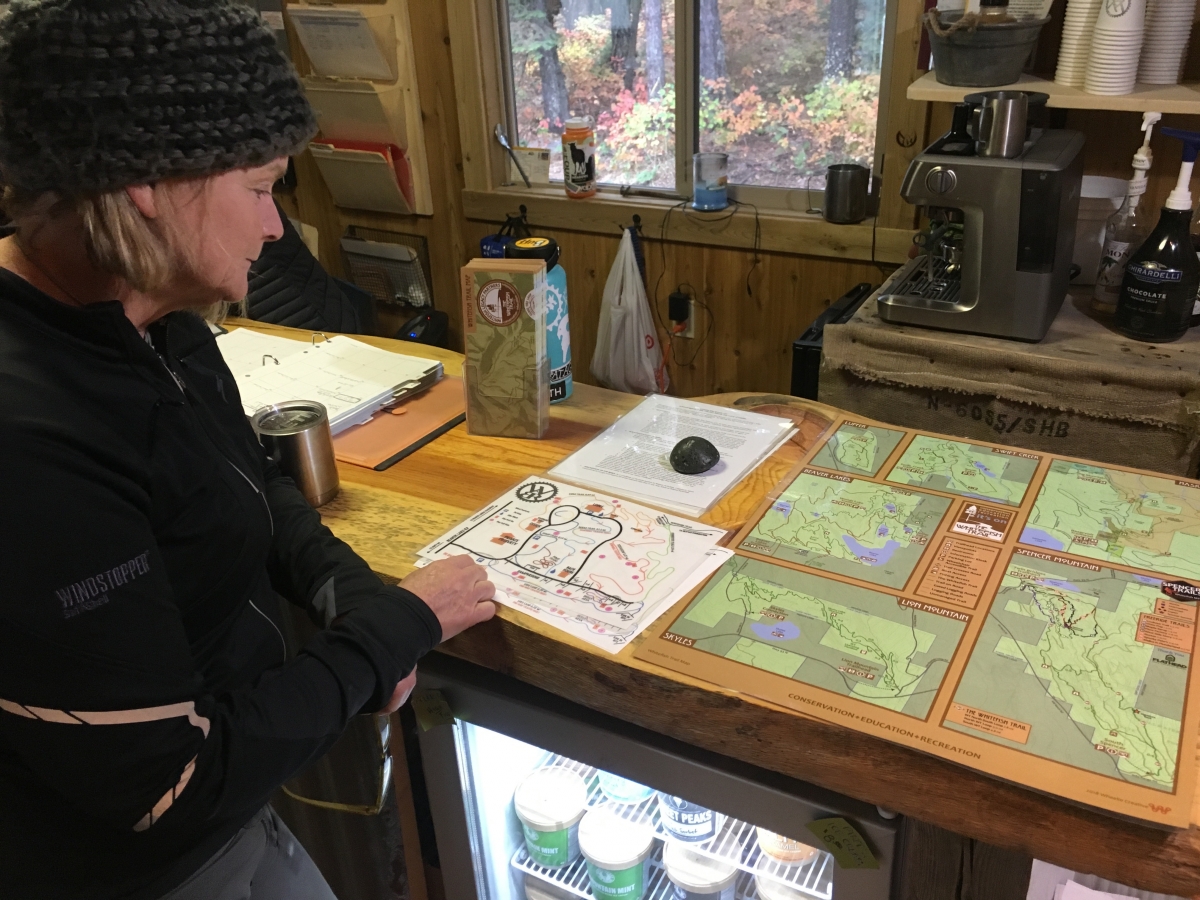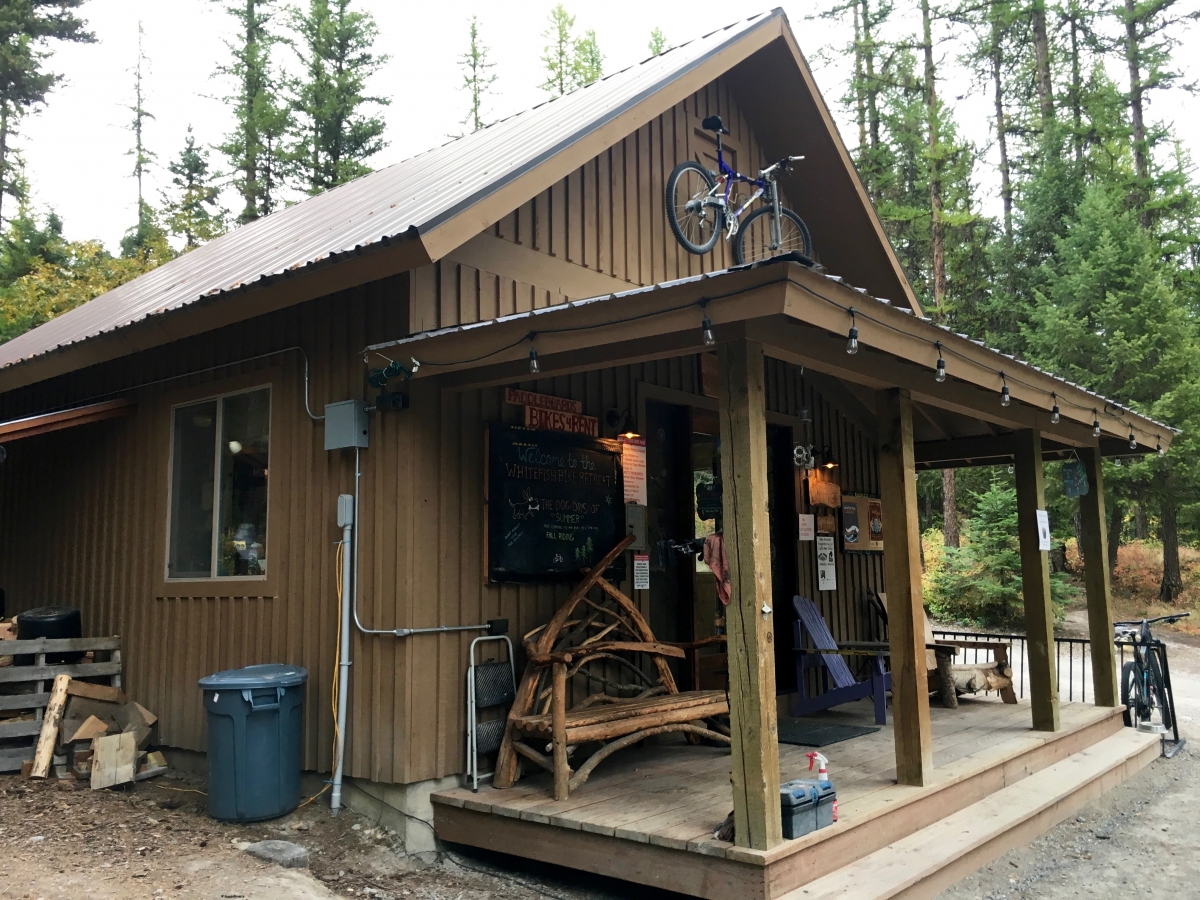 The forest's understory exploded in fall color: yellows, reds, and oranges unlike anything around Bozeman. The mosaic commanded my attention, my front wheel wandering into the brush due to my wayward focus. The trail itself was flawless, much of it designed by Terraflow Trail Systems, the same folks building up at Big Sky and out at Copper City. The climbs were moderate and the descents effortless—I barely had to use my brakes.
As we rode along, Cricket filled me in on the Whitefish riding scene. The Whitefish Trail was fueling a major boom, as it connects several popular trail centers, and can even be ridden from town. Eventually, it will encircle all of Whitefish Lake, connecting riders to the lift-served trails at Whitefish Mountain, downtown Whitefish, and public-lands trails beyond. It isn't often that a Bozemanite is jealous of another town's outdoor amentities, but hearing Cricket go on and on about this trail, I was green as grass.
At the top of another moderate climb, we ran into another biker. He was up from Kalispell, but had moved to Montana years before from Indiana. In a thick Southern-sounding accent, he waxed poetic about the biking in Whitefish, careful to avoid mentioning his favorite spots by name. After failing to squeeze any info out of him, we moved on to talk of whitewater kayaking and near-death experiences, a direction that topic always seems to go in. Story fodder exhausted, we said our goodbyes, letting him dip down the trail ahead of us.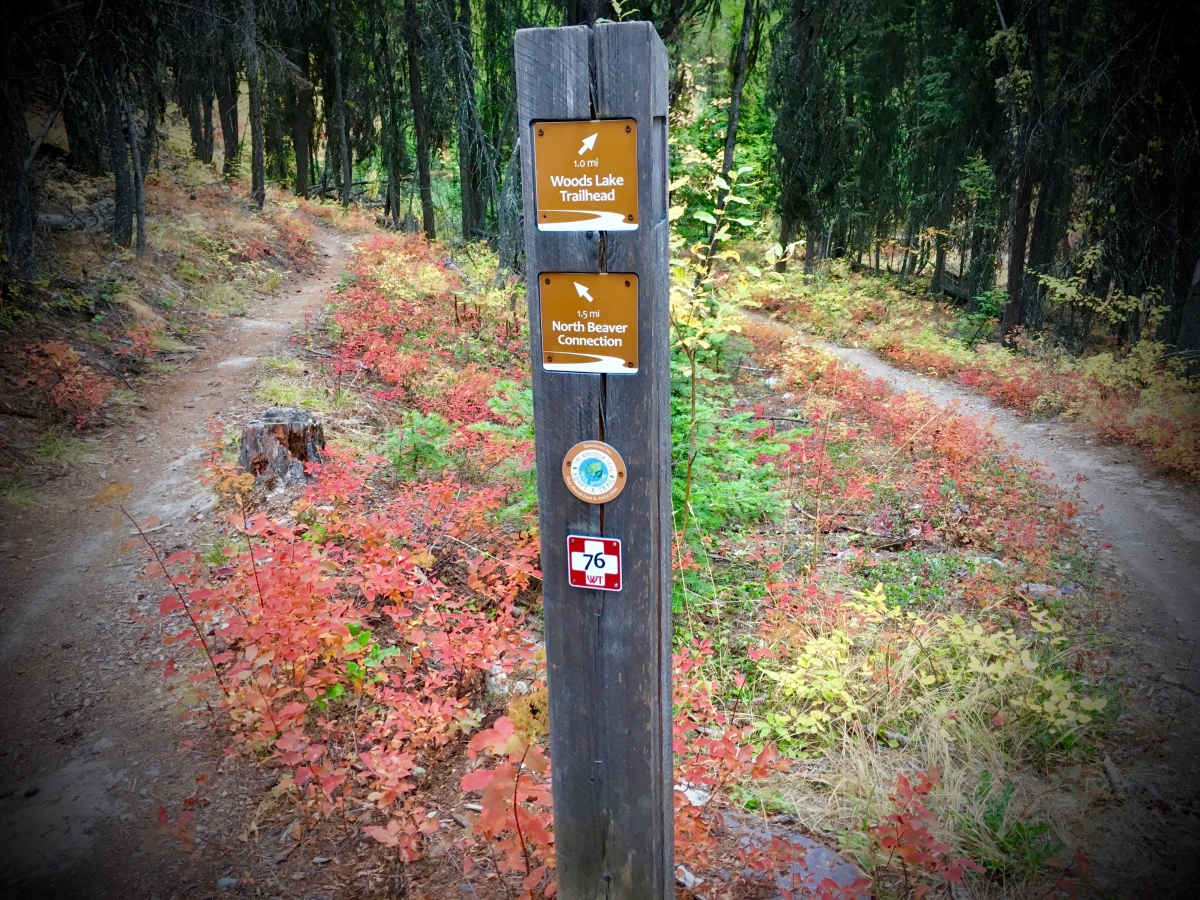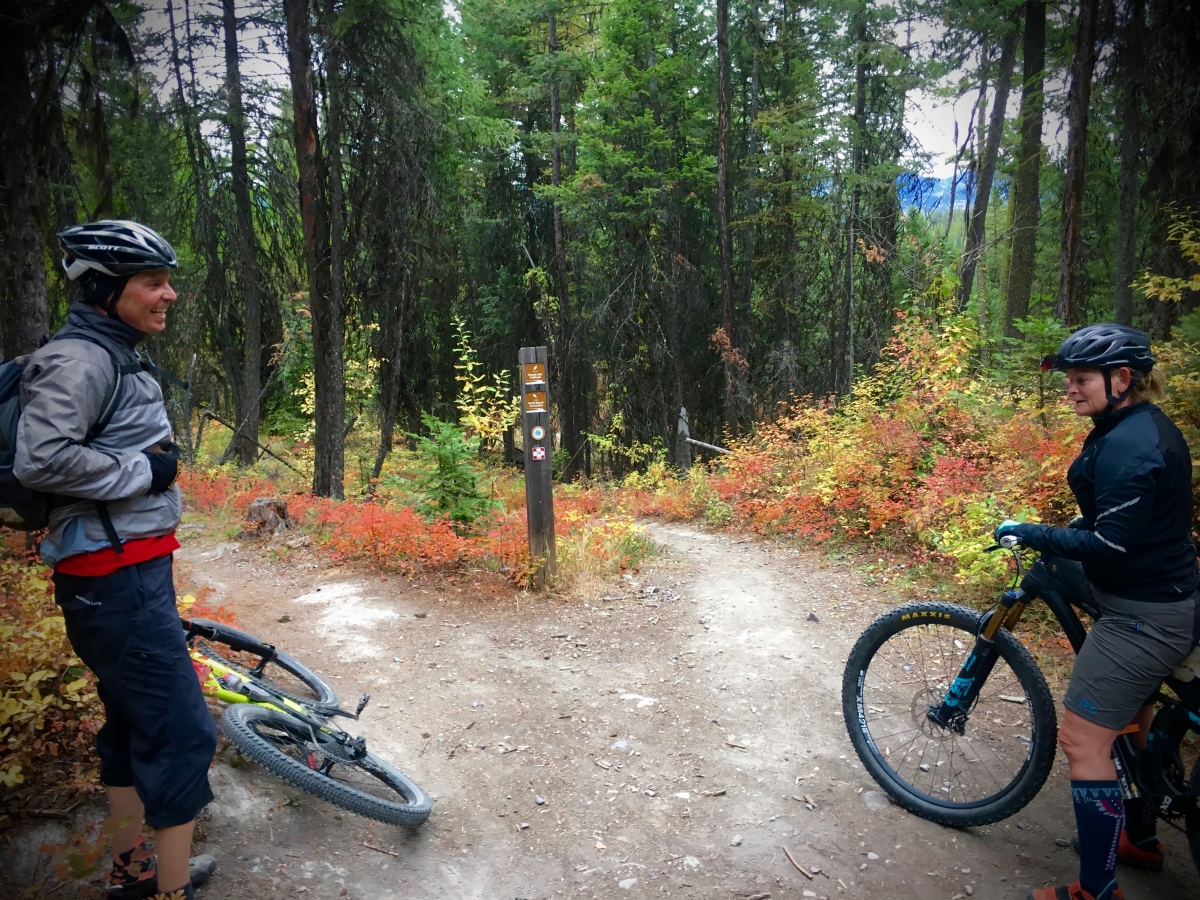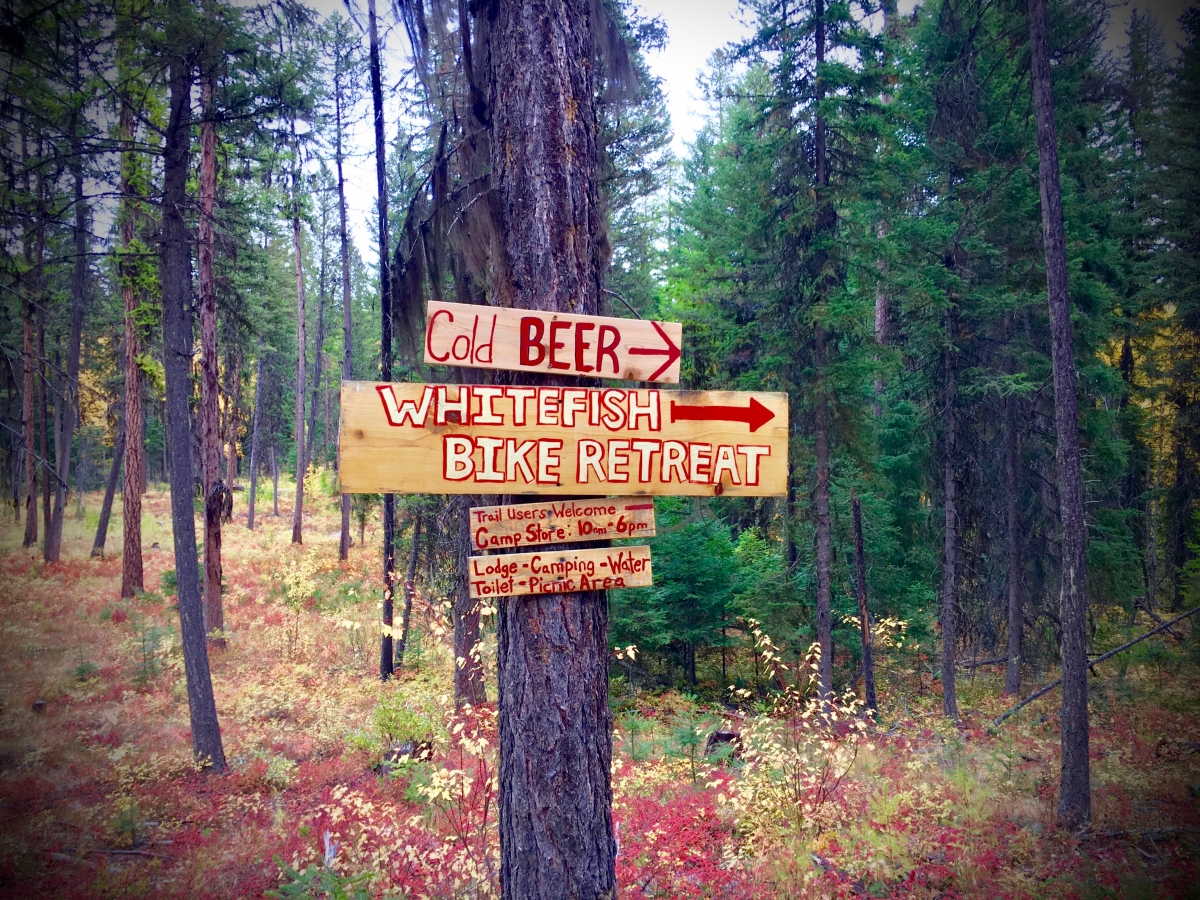 Standing and waiting, I couldn't help but enjoy the notion that three bikers, one from Indiana, one from New York (me), and one from South Carolina (Cricket) were connected now by this trail. But that's what trails do—they connect. They connect to each other, they connect to the land, and they connect people to places. In Whitefish, as in Bozeman, it's clear that these connections run deep.
Back on our bikes, we pedaled our way up to a high point overlooking several small lakes, Whitefish Mountain, and downtown Whitefish. Cricket explained that when complete, the Whitefish Trail would allow users to access the mountain resort's downhill trails by way of non-lift-served climbs. In the not-so-distant future, there will be a several-mile downhill straight into downtown Whitefish, making it possible to leave town after breakfast and get back in time for happy hour, all on your bike, mostly on singletrack, all for free. Again, green as grass.
Musing on the riding potential, I realized a fall weekend wasn't possibly enough time. We'd ridden from one trailhead and the options seemed endless. I'd only been in Whitefish for a day, but I knew then and there that I'd have to come back, set up a basecamp, and spend a week.
Lightly falling snow snapped me back to reality and we made haste for the Retreat. Back on property, Cricket showed me the on-site downhill trails, pumptrack, and tent sites. A family sat in camp chairs, a pile of bikes stacked against their vehicle. For one last hurrah, we rode Lego Land, a kid-friendly trail that Cricket said the tweens lap all day, a comment that hurt my pride a bit when I couldn't clean the skinny, a narrow wooden feature elevated slightly off the ground.
We said our goodbyes and I loaded up my rig. I took a seat behind the wheel and reached into the center console for my notebook. Flipping to my to-do list, I uncapped a Sharpie and struck through "Fall biking in Whitefish." Below that I wrote, "Summer biking in Whitefish." Like I said, one weekend wasn't enough—I'd be back.
If You Go
Biking isn't the only scene in Whitefish. Downtown is flush with great bars and restaurants. For lunch, check out Casey's Bar right downtown and order a burger. If it's nice out, enjoy your meal on their Sky Bar, an outdoor area on the second floor with great views. If you're visiting with a significant other, head for Abruzzo Italian Kitchen. The menu is overflowing with delicious options, like the made-from-scratch carbonara, so hopefully you both like to share. Wash it down with some Barbera and you'll sleep like a rock. For something with a more casual vibe, pop in to Last Chair Kitchen & Bar. As their name suggests, they like skiing, so they're my kind of people. They have a great selection of Montana beers (again, my kind of people) and a menu that includes staples from ranging from Indian to Mexican. 
If you like a little music with your meals, make haste for Tupelo Grille. Sit at the bar and order the braised shortrib and a glass of whiskey. Sink into your stool and let the tunes take over while you daydream about the next day's ride. Speaking of the next day, get up early and caffeinate at Montana Coffee Traders before scarfing down a breakfast crepe at Amazing Crepes. Choose from sweet or savory (or do like I did and get both).  
For downtown lodging, book a room at the bike-friendly Firebrand Hotel. Yours won't be the only hitch-rack in the parking lot, and rates are shockingly reasonable considering you'll have access to a roof-top hot tub with mountain views and loads of modern amentities. They even have dog beds for your canine companion. The Firebrand is located right downtown and the hotel bar makes for a nice nightcap, whether you're staying there or not. Get the margarita.
---
For more trip ideas, visit explorewhitefish.com.