Two (great) reasons to visit Dillon this spring. 
Snowy mountain ranges frame Montana's big sky in almost every direction as you take a deep breath of crisp, sage-scented air. You shift your gaze down to the Beaverhead River, glistening as it winds through the valley far below. It's mud season, but there's almost no mud on Dillon's rocky High Trails, just a few old snow drifts melting away and the first wildflowers peeking out among the sage. In the stillness of these wide-open spaces, you can almost hear your heart beating from the climb to this quiet summit. 
And you thought the high point of the day was going be making impulse buys at the Patagonia Outlet! After stretching your wallet buying all that gear, you wanted to stretch your legs before the drive home—maybe you'd be able to find a pleasant stroll in a park. As you try to decide which ridge to follow or which hill to climb next, you wonder how did the High Trails happen?
Well, you can thank the Beaverhead Trails Coalition. This volunteer-run community group has raised over $430,000 to purchase 781 acres directly west of town across the Beaverhead River. By August of 2019 they need to raise an additional $180,000 to purchase another 327 acres. Along with the YMCA and other partners, they're also working on in-town trails. If that pleasant stroll is what you're looking for, head to the YMCA on Swenson Way to enjoy paved and gravel trails linking wetland areas and the Blacktail Meadows fishing access and kids' fishing pond.
To access the High Trails, park at the large trailhead on Ten Mile Rd., less than two miles from downtown. Currently, this is a great outing for hikers and trail runners. If you bring your bike, don't expect trails rivaling a Montana mountain-biking destination like Helena… at least not yet. The mix of old two-tracks and cow trails will have you pushing your bike up steep climbs, and enjoying the scenery and exploration more than the flow. Cows don't do flow. There is some good singletrack, but it tends to fade in and out, and you'll need to keep a sharp eye out for prickly pear cactus. Horses are welcome too. The High Trails are open to all non-motorized uses and the local Backcountry Horsemen's group is actively involved in the effort.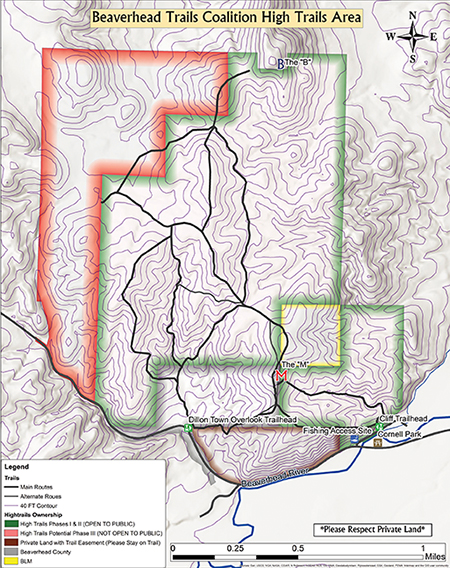 The Dillon Town Overlook trail climbs to a ridge directly above Dillon's "M" and is roughly half the distance and elevation gain of the hike to Bozeman's "M". Don't be put off by the trailhead's industrial feel. It shares a small valley with a closed landfill the city is still using to store gravel and other materials. Another marked, but less obvious, trail skirts the old landfill's west side and climbs into the heart of the hills. Maps are posted at the trailhead and on the Beaverhead Trails Coalition website (beaverheadtrails.org/maps/) but it would be hard to get lost since the hills are all open prairie where it's easy to keep your bearings. When you're done exploring, stop in for a tasty local beer at the Beaverhead Brewing Company—the venue for many trails fundraisers.
What does the future hold? Trail improvements are being planned, and if the next land purchase is successful, there will be an additional trailhead along with more trails in an area of the hills with gentler grades—which is better for bikers and families with young children. Long-term, a few more land deals and easements could link the High Trails with other public lands to create a trail all the way to the southern end of the Pioneer Mountains—approximately 14 miles away. The Beaverhead Trails Coalition is just getting started!