Exploring southwest Montana's state parks. 
We all know and love the big national parks at the top and bottom of our state. They're dramatic, inspiring, and in the summer, they're crowded. Luckily for us, Montana is rich with state parks full of beautiful vistas, rich with culture and history, thick with recreational opportunities, and a lot less busy.
One of my favorite mini-road-trips explores three of Montana's historical and beautiful state parks with an hour of Bozeman. Staying close means you can spend the weekend playing outside and exploring the state instead of sitting in a car.
To follow this weekend itinerary, visit Missouri Headwaters State Park on Saturday after a leisurely morning at home. Then drive on to Lewis & Clark Caverns, where you'll spend the night in the campground, a tipi, or one of their cabins. After a morning exploring the caverns and the landscape around them, head to Madison Buffalo Jump for a quick jaunt on the way home.
Missouri Headwaters
At the confluence of the Jefferson, Madison, and Gallatin rivers, Missouri Headwaters offers a history lesson, outdoor interpretive signs, picnic spots, short hiking trails, a small campground, and a rental tipi. Fish the Gallatin or the Missouri, or head upstream and wander along the Madison looking for wildlife. There's also a great swimming hole just off the highway. Regardless, your crew can retire for lunch at the same place Lewis and Clark stayed in 1805 on their historic trip up the Missouri River. Lugging a huge wooden boat upriver not required.
To get there, take the frontage road between Three Forks and Manhattan and look for the sign. 
Lewis & Clark Caverns
Montana's first state park is a showstopper. Stalactites, stalagmites, columns, and cave bacon decorate this large limestone cave. A two-hour guided tour takes visitors through two miles of walkable cave trail. For more of a challenge, those 12 and older can strap on a helmet and headlamp, get off the trail, and crawl through the cave on a Wild Cave Tour.
While the cave is the main event, there is much more to this park. Wander on foot or by bike through the rugged hills, or check out the visitor center with interpretive displays to help the whole family learn about the park—both above and below ground. There's a gift shop and concessions, so you don't even need to pack a lunch. If it's a warm day, head down to the nearby Jefferson River for a swim.
For a night under the stars, reserve one of 40 campsites, three cabins, or a tipi. On Friday nights, rangers present interpretive programs about plants, animals, ghosts, sapphires, and other Montana topics.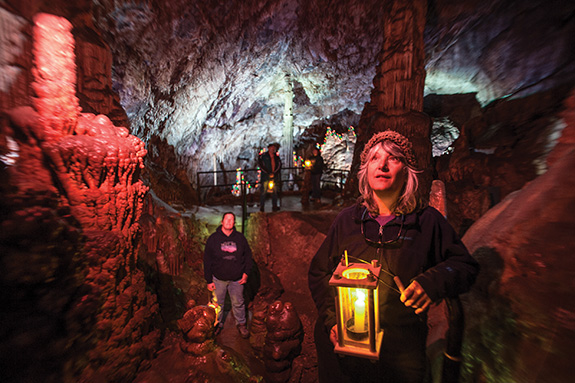 To get there, head southwest from Three Forks, toward Harrison, turning right on Hwy. 2 just before you cross the Jefferson 
Madison Buffalo Jump
You won't see bison streaming off the edge of a cliff, but you can imagine how it might have looked and felt when Native Americans drove bison to their deaths below the cliffs. Interpretive displays help visitors understand the dramatic events that took place here for nearly 2,000 years. It's a fascinating exhibit, and the juniper-studded hills make for a fun and easy hike, or even a quick trail run. The park is small and the hike short, but the sweeping views of the Madison Valley may keep you perched on top for a good while.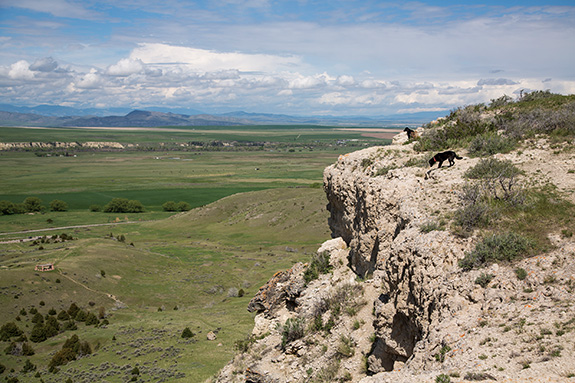 To get there, turn south off I-90 at the Logan exit; the paved road eventually turns to gravel and takes you right to the park entrance.
---
The More the Merrier
When you're ready to explore further afield, you'll find a wealth of parks to spark your interest and get you moving. Here are just a few.
Bannack
Bannack is Montana's first territorial capital and home to the state's first major gold discovery in 1862. This ghost town comes alive with living history all summer. Perched on Grasshopper Creek, the town is west of Dillon. Don't miss Bannock Days on the third weekend in July for historic displays, re-enactments, music, and activities. You can even pan for gold and make candles. stateparks.mt.gov/bannack. 
Makoshika
Montana's largest state park features badland formations and the fossil remains of dinosaurs. It's a long drive from Bozeman, but well worth it. Don't miss Buzzard Day on June 9; if you can take the heat, participate in the 1-mile, 5k, or 10k Buzzard Run. There's also a Paleo Hike with Dino Dave and a Crow drum and singing group, GoesWell Singers, will perform along with traditional dancers. stateparks.mt.gov/makoshika. 
Painted Rocks
Located up the West Fork of the Bitterroot, Painted Rocks Reservoir is a great place to relax, recreate, and check out the wildlife. Boat, camp, paddleboard, or fish in the scenic pine-forest setting. Don't miss the spring and autumn migrations for an abundance of waterfowl. stateparks.mt.gov/painted-rocks.
---