Affordable Weekend Getaways
In this economy, finding the money to take a vacation can be difficult. So we've found a couple of ways for you to have your cake and eat it too.

Cheap Trip #1: Beaver Creek Cabin
Spending the night at a Forest Service cabin gives you the feeling of being out in the backcountry while providing some of the comforts of home. There are 23 cabins available for rent in the Gallatin National Forest. Built in the 1920s and 30s for Forest Rangers, they now provide a cozy backcountry retreat for the rest of us.

The Beaver Creek cabin sits just off an unplowed road nestled in the Madison Range. The cabin sleeps four and is stocked with firewood for the wood stove, but that's about it. Bring a camping stove if you want food or water quickly, a lantern or headlamp (there isn't electricity), and toilet paper for the nearby outhouse. The beds are mattress-free, so don't forget the sleeping pad. Plan to melt snow to drink.

The ski into the cabin is easy and pretty, as is follows Beaver Creek 3.5 miles to the cabin. Boat Mountain looms on the right and the high peaks of the Madison range reach out of site on the left. The road is flat enough that you can pull a gear sled and bring in gourmet food and libations to fill those long winter nights. You can also snowmobile in too.

After unloading your food and gear, ski another mile up the road to several trailheads. Don your skins and explore the Taylor Hilgard region of the Lee Metcalf Wilderness. Although the road is ideal for cross-country skiing, the trails out of the canyon are steep enough to warrant backcountry and avalanche gear and the knowledge of how to use them.

If you aren't up for backcountry touring, snowshoe up one of the four trails beyond the cabin, or sip hot cocoa on the porch while reading a book. Build a snowman or a fort to hide behind as you pelt your friends with snowballs. Forest Rangers never had it this good.

Getting there:
Travel eight miles north of West Yellowstone on Highway 191, turn left at Highway 287 junction and continue driving 14.5 miles. Park at Refuge Point on the left (south) side of the road. Cross the highway to Beaver Creek Road and ski 3.5 miles to the cabin.

Cheap Trip #2: Maverick Mountain
If you like your lifties in Carhartts and cowboy hats, your fellow riders in jeans, and a little quiet time on the mountain, check out Maverick Mountain Ski Area. Maverick is 35 miles west of I-15 and feels like it is 35 years in the past, but in a good way.

The stats are these: One double chair with two departure points and a rope tow serve the 210 skiable acres. The longest run is 2.5 miles, and the vertical drop is 2,020 feet. Twenty-four trails hold an average of 200 inches of snow each winter. And get this—they're only open Thursday through Sunday, so if it snows Monday through Wednesday, there will be several days of untrammeled snow awaiting your arrival.

What the stats don't tell you is how fun Maverick is. With just one lift, it is easy to ride up with friends of varying ski abilities, ski your own route, and meet up again at the bottom. Trails are rolling and steep, wide-open, and tight; in the trees they're mellow and long. The lift operator will chat you up and groove a little to the country music playing in the lift house. Across the valley the Pioneer Mountains jut into the sky and make you wonder where else in this little-traveled range you should explore.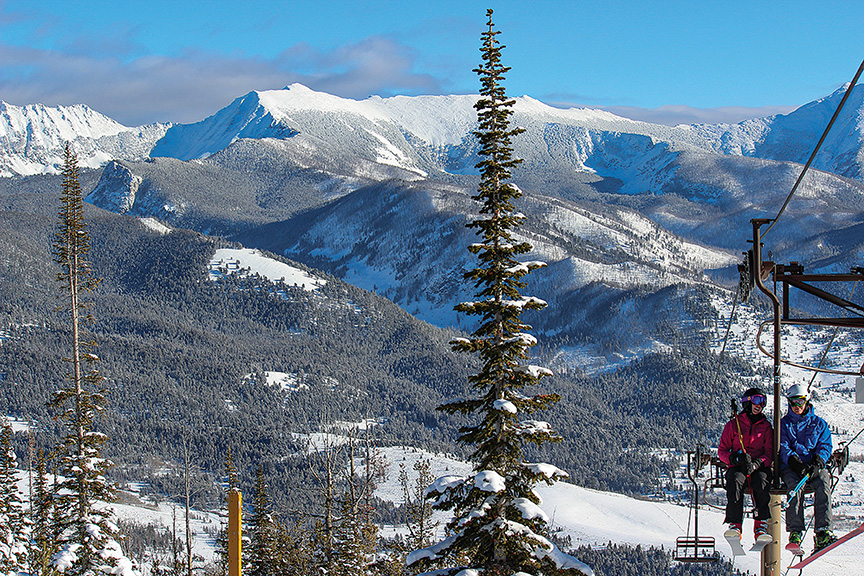 After carving turns all day, head north five miles to Elkhorn Hot Springs for a soak and a steak the size of a dinner plate. Rent a rustic cabin with your friends and hop back on the slopes the next day. Or turn your weekend away into a multisport adventure and spend a day kicking and gliding on the cross-country trails that leave right from the hot springs. For more information, visit skimaverick.com or elkhornhotsprings.com.

Getting there:
Drive 53 miles west of Bozeman on I-90. Head southwest at Whitehall on MT-2/MT-69 for less than a mile. Turn left (south) on MT-55 and go 12 miles to Twin Bridges. Continue on MT-41/MT-287 14 miles to Dillon. Take I-15 south 4.5 miles to MT-287 and the Jackson/Wisdom exit. Drive west 25 miles to Polaris Road. Turn right (north) and drive 10.8 miles to the Maverick entrance.