Skijor's coming to town.
Do we even need to question the appeal of a sport that combines galloping horses, packed powder, and fast skiing? Let's face it, this is Montana—home to eight-month winters, cowboys, and powder junkies—and skijoring is simply a natural evolution. In fact, skijor hails from Scandinavian roots, originally developed as a means of travel but has now been adapted as a sport where a skier is hauled around a designed course, navigating jumps, gates, and rings as fast as possible. It may be more commonly recognized with dogs ahead, but equine skijoring is gaining new speed in Bozeman—thanks to a local nonprofit.
Whitni Ciofalo and Josh Abbot are founding board members of the Gallatin Valley Skijoring Association(GVSJA), a relatively new nonprofit organization putting on its first annual event right here in Bozeman January 23 and 24. The race, dubbed the Duckworth Montana Classic, will be held at Gallatin County Regional Park and GVSJA expects up to 500 participants from all over the West and Canada. They'll host three levels of competition for the weekend: open (pro), sport, and novice, as well as an opportunity for open exhibition. The race is free to watch, and proceeds from entry fees go to Eagle Mount, another local nonprofit and sponsor of the event that works closely with GVSJA.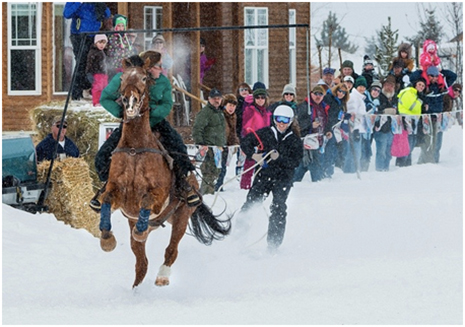 Whitni on her mount, Gulliver, pulling skier Kelli Merkel as she snatches a ring in Wisdom, MT
Whitni and Josh are riders-only in competition, both having years of equestrian experience behind them. "I think my skier's an idiot for doing that in the first place," Josh confesses, breaking into a grin as he explains that it takes something more than downhill skills to excel at skijor. "I pulled a really good skier that fell on his face the first time he tried."
RJ Klotz, another organizer of the event and board member, is a ski-racer and now shreds for GVSJA. "There's a whole technique to it that's not just skiing," Whitni chimes in. "There's a lot of physics happening at once, kind of like waterskiing," she says. The pair encourages new rider-skier combinations to come out and run in the exhibition on Saturday (they even have pictures of rope riggings on their site for newbies looking to try it out), where teams will have a chance to get their horses out in front of an audience and familiarize themselves with the kind of issues found on a real course.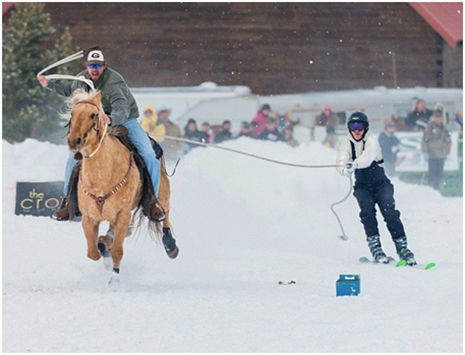 Josh riding Pals, while skier Dylan Gerrity navigates the course. 
Skijoring is a sport that brings together the unlikely pairing of two of the most enthusiastic and iconic groups in Montana—cowboys and skiers. When combined, there's a lot of bad-assery going on. "The first time I ever skijored I flipped my horse over—the snow was too deep." Josh remembers. "That was my first time ever so I really didn't know how the course would run and I looked back and saw my skier was still there and so I figured it was a race." The events are judged on a combined score of a team's speed over the weekend. There's a cash pot at stake, along with prizes. Spectators can join in the fun and winnings by bidding on teams during the Calcutta Saturday night, held at Mixers, where they can win money based on their purchased team's overall performance. Check out GVSJA's website for more details.
If the event this coming weekend is anything like other Montana skijor races, say the National Championships held in Whitefish, then it's sure to be an eventful day with roaring crowds of rowdy outdoor enthusiasts. According to the GVSJA's website, skijoring is "just another reason to get outside during the winter in Montana, socialize, and support our local athletes and sponsors." We couldn't agree more. So saddle up, click into your bindings, pray for snow, and head to the Cannery Friday the 22nd for sign-ups. We'll see you at the races.