An activity-filled winter weekend up in Big Sky.
Never has a right turn been more pleasing to the eye than the 90-degree pivot from the southbound lane of Hwy. 191 toward Big Sky.
Towering above the surrounding ridgelines at over 11,000 feet, Lone Peak dominates the view as you climb from the canyon floor to the mountain's timber-covered flanks.
It's at this time of year that my thoughts shift from biking, hiking, hunting, and fishing, to skiing, boarding, skating, and snowshoeing. And while Big Sky has made numerous summer-oriented improvements, it's still winter that gets me fired up to spend a weekend in this high-country hamlet.
While skier visits continue to increase, Big Sky Resort is taking steps to mitigate the consequences, such as adding more runs. This winter, there will be three new named runs at the ski area. Mountain Operations was busy over the summer, widening Fast Lane, the main artery shuttling skiers from Moonlight back to Big Sky; glading a new tree run below the North Summit Snowfield; and adding another run that will parallel the Swift Current chair. While I obviously haven't had the opportunity to ski any of these additions, more options are a good thing, plus Fast Lane was always a bit of a traffic-jam, especially at the end of the day.
Down in the meadow, the Big Sky Community Organization has been hard at work building and improving trails closer to town. While some of these trails are purpose-built for summer recreation, the community-development nonprofit is hoping to provide winter opportunities as well, such as cross-country skiing, fatbiking, and snowshoeing. Check them out on Facebook for updates on user regulations. For families with young kids, be sure to stop by Kircher Park's new Tree Fort, if it isn't snow-covered and slippery. The fort includes a climbing wall and is the centerpiece of the newly updated park.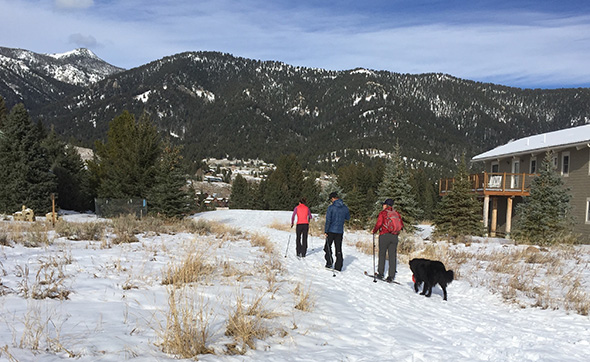 New summer trails mean new winter options
If you're looking to ditch the crowds entirely, Big Sky Backcountry Guides now offers backcountry ski tours in Yellowstone National Park. Their experienced guides will lead you through the incomparable sights of the Park. If you're new to the backcountry game, head to Grizzly Outfitters in the Meadow Village. They'll rent you a full touring setup, so you don't have to go all in just to give randonee a try.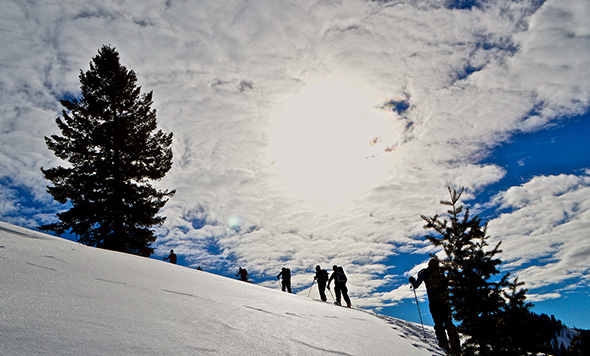 Take a walk on the wild side with Big Sky Backcountry Guides
If you're more comfortable on two wheels than two planks, rent a fatbike before leaving Bozeman and cruise down to Buck Ridge, a few miles south of Town Center on Hwy. 191. Before you do, swing by the Cave for a six-pack of Montana-made beer. Their selection of local brews is excellent; just be sure to buy cans and pack out whatever you bring in. For a snowy bike ride, I suggest a Powder Hound Winter Ale from Big Sky Brewing or a Bitter Root Brewing IPA. Both are rich and full-bodied: great for staying warm on a cold day.
The road to Buck Ridge is groomed for snowmobiling, so you'll need a trail pass. Contact the Forest Service for specific regs, and don't poach. The Gallatin Valley Snowmobile Association members pay dues and fees to ride, and bikers need to do their part as well. The climb up to the ridge is quite grueling, but once you've gained some elevation, the views are spectacular. Bring lunch and picnic up high, then leisurely descend back to your car. This route is popular with snowmobilers, so pay attention and if you like solitude and quiet, make other plans. If you don't have time for an all-day outing, check out the Hummocks trail. It's a three-mile loop accessible from Town Center.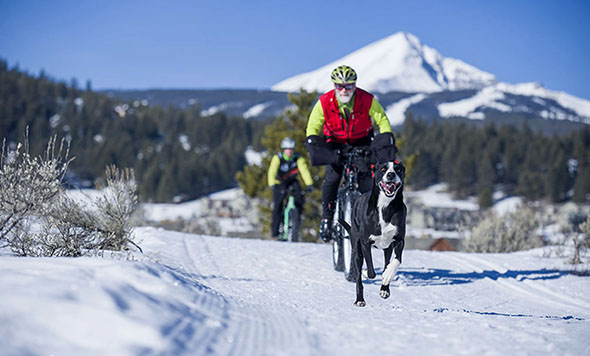 Fatbiking: a winter sport even the dog can enjoy
Back in Big Sky, your après-activity options are considerable. There are new restaurants and bars opening all the time, so check in with visitbigskymt.com for the latest options, or stop by their visitor center (across from the Conoco just off Hwy. 191) for a personalized trip plan. Their online calendar is also a great resource, as is O/B's. Pair your outdoor recreation with some live music or a show, such as the Big Sky Big Grass Festival Feburary 8-11, for a well-rounded visit.
After you've skied, biked, imbibed, and eaten your way through the day, wind down with some open skating at the Big Sky ice rink. It's outdoors and under the stars: the perfect way to cap a winter day before returning to your hotel, or driving back up the canyon.