A Montana gem.
The Big Hole River is by and large everything a classic Western stream should be—and sometimes a lot more. From the outlet of Skinner Lake in the Beaverhead-Deerlodge National Forest, the Big Hole's entire length stretches just over 150 miles to its confluence with the Beaverhead. Here, these two rivers form the headwaters of the Jefferson. The Big Hole is a productive river, and is typically only crowded for the middle weeks of June during the salmonfly hatch. Other than that, the Big Hole remains one of the less crowded rivers in the state, partially because the state of Montana has placed regulations on commercial outfitting.
Access
The state maintains 14 official access sites along the length of the Big Hole. All of these have boat ramps, but only seven are paved. While the unimproved boat ramp sites provide good access for floaters, some may not be ideal for certain types of craft or vehicles without four-wheel drive. Six of these sites also serve as campgrounds, but campsites may be hard to come by during peak season. Keep in mind that the Big Hole flows mainly through private land—if you're wading or happen to get out of your boat, it's a good idea to keep your feet wet.
Flows
The average daily flow of the Big Hole runs at 1,000 cfs. This reading is taken from the Maiden Rock gauge, which sits approximately in the middle of river, with equal miles above and below this point. This is a mean average, however; depending on the snowpack, rainfall, and irrigation demands, in late May and early June this flow can change from 2,000 cfs to 10,000 cfs in a matter of days. Don't expect smooth floating in dry years on the lower stretches of this river. Likewise, don't expect a lot of time for a good presentation from a boat during times of higher water. Note to novice oarsmen: do not float this river when it's over 5,000 cfs—the danger will far exceed your potential haul.
When to Go
When planning a trip to the Big Hole, it's recommended that one keep a sharp eye on river flows, weather patterns, and overall water temperatures. Great fishing can be had in the upper sections during early, warmer springs, but this can change quickly if precipitation or cold weather rolls in and changes water clarity or temperature.
Don't be deterred by the consistent "light coffee color" of this river. Many anglers who fish these waters are taken aback by the color—while it may be brown, it's clean and ready to be fished. During years of quality snowpack, the mid-summer to late-fall seasons are usually good producers on the Big Hole. If patience and crowds are not your thing, avoid this river during the salmonfly hatch and on summer holiday weekends. Starting July 1, however, the traffic drops drastically and anglers searching for solitude will have more peaceful waters.
Fish
The Big Hole is home to the "Native Three": cutthroat, grayling, and whitefish. Cutthroat and grayling are rare, but the hardy whitefish is still very common. The Big Hole is also home to good populations of brown, rainbow, and brook trout; the latter is found mainly in the upper stretches, and many believe these to be some of the bigger ones in the state.
Row vs. Wade
Float fishermen need to be aware of the water conditions, especially in the early season. When runoff happens, the cottonwoods that line the majority of the river get swept up in the rising current and are raced downriver. This can be a dangerous time of year to be on the river—tight quarters are often found when floating, and floaters should be sure to ask local fly shops if there are any hazards they need to be aware about before they launch.
As for wading, the Big Hole may be the hardest river in the state of Montana to wade fish. In many areas, walking along the river bottom is akin to walking on greased bowling balls. A wading staff is highly recommended, and because Montana does not have a felt bottom boot ban, fishermen can use felt soles, as well as adding studs to the boot soles.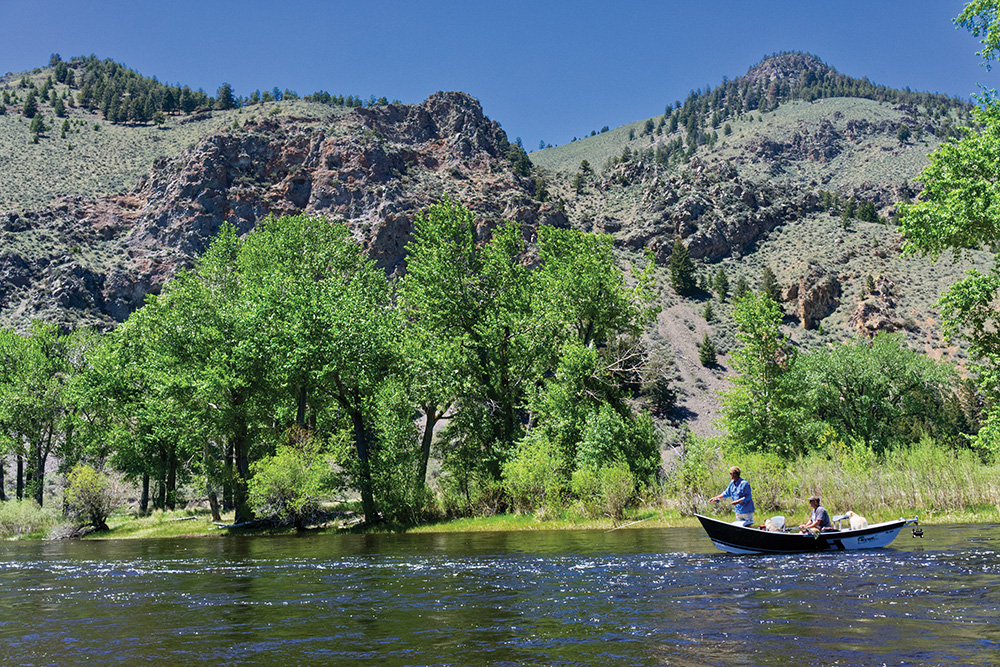 Regulations
The current FWP regulation booklet is an invaluable resource when fishing any river in Montana, and the Big Hole is no exception. Keep in mind that during low flow years some sections may be closed or limited to certain times. Due to its popularity as a floating destination, restrictions have also been implemented on commercial boats. As for specifics, all grayling must be released year-round, artificial flies and lures permitted only from Dickie Bridge to Melrose. From Melrose to the Jefferson it's artificials only from December 1 to the third Saturday in May.
Getting There
Depart I-90 at the Hwy. 15 exit, and head south by southwest en route to Melrose. Another option is the route via Ennis and Hwy. 287, which is longer but more picturesque. At the junction of Hwy. 287 and Hwy. 41, head south by southwest en route to Dillon. As always, keep an eye out for the bullet-riddled FAS (Fishing Access Site) signs that point the way to river access.
Hot Spots
Guides and tackle shops are your best bet for up-to-date information on where to go and when to fish. During peak seasons, anglers flocking to this river literally double the population of the valley it flows through, if only for a few weeks. If solitude is what you seek, opt for more remote locations, or shoot for shoulder seasons for better overall fishing.
---
Kurt Dehmer owns Durty Kurty's Guide Service in Bozeman.