Montana's fish factory.
At first glance, the Beaverhead River may look like nothing more than a glorified irrigation ditch. However, the good old Beav' has more than meets the eye. Originating from Clark Canyon Reservoir south of Dillon and continuing to its confluence with the Big Hole just outside Twin Bridges, this nutrient-rich river holds some of the biggest trout in the state.
Access
Starting at the dam and continuing to Barretts Diversion, the upper Beaverhead is accessible from six access sites. Wade and float fishermen alike will find this stretch unimaginably fruitful. Below Barretts, access is limited to a few "unofficial" boat launches, and from there public access is scarce.
Flows
Streamflows range from 500 cfs to 1,000 cfs during normal conditions. Outflows are controlled by the Bureau of Reclamation, increasing as irrigators demand water downstream. As this narrow, sandy-bottomed river snakes toward Dillon, it offers "fishy" riffles, pools, and pockets loaded with wild trout.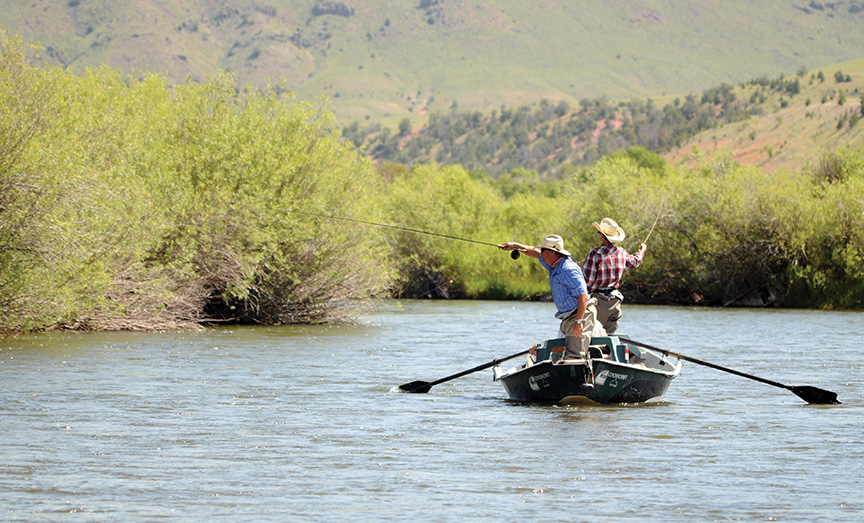 When to Go & What to Use
The Beaverhead produces an astounding amount of bug life throughout the year. Spring brings baetis, caddis, and midges, while summer features yellow sallys, PMDs, crane flies, spruce moths, midges, and tricos. Fall delivers more caddis, blue-winged olives, and streamer fishing. Freshwater shrimp, scuds, sowbugs, and aquatic worms are present throughout the season. Nymphing with two flies and some split shot is the surest way to hook a fish on the Beaverhead. Summer calls rising fish to the surface in the late mornings and early evenings. Streamer fishing is productive in the spring, fall, early-morning, and late-evening hours.
Fish
This river is known for brown trout. At one point, the Beaverhead was estimated to hold one 20-inch brown for every seven feet of riverbank. It also showcases hard-fighting, football-shaped rainbows, with the highest concentration of trout found in the first 20 miles below the reservoir. Be sure to have your camera along—fish caught on the Beaverhead are often picture-worthy.
Row vs. Wade
The upper Beaverhead (from the dam to Barretts) offers great wade fishing and clearly marked access sites. For those looking to float, oarsmen need to be ready for tight turns and overhanging brush, but the rewards are plentiful as much more water can be covered from raft or drift boat.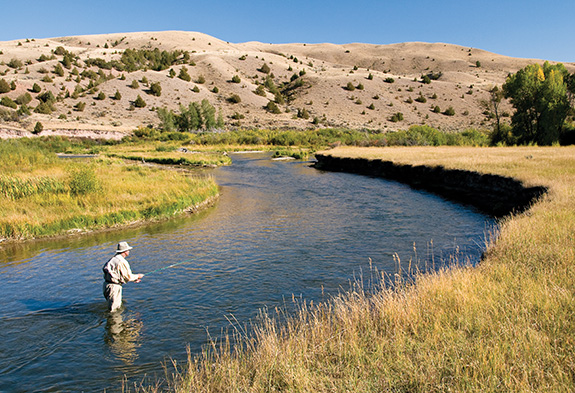 Regulations
The dam to Pipe Organ is closed to fishing from November 30 to the third Saturday in May. It opens on Montana's general fishing season opener (always the third Saturday in May). Pipe Organ down to Twin Bridges is open year-round. Check the current fishing regulations for additional information on river closures.
Getting There
Take I-90 west 60 miles to Whitehall, then continue on Hwy 55/41 for 55 miles through Twin Bridges into Dillon.
---
Justin Hartman is the owner and outfitter of Tight Line Adventures and Expedition Lodge in Dillon, Montana.