How to enjoy ice fishing this Winter.
What is it about ice fishing that appeals to so many people, causing them to embrace the coldest months of the year? For many, myself included, it's that sense of accomplishment after they braved the elements and won. If you're new to the sport, I hope these words of advice, garnered over years of experience, help you to enjoy the experience as much as I do.
Like many other pursuits in the outdoors, hiring a guide the first time or two can really give you a sense of the pinnacle of gear and technique, but that can be expensive. If you are going to strike out on your own, the first bit of advice I can give is that you must never assume any ice is safe. Much like the first rule of gun safety is to treat every firearm as if it is loaded, lake ice, and especially river ice, must be treated with respect, as your life depends on it. Ice can support thousands of pounds, as anyone who has ever watched "Ice Road Truckers" has seen. But it can also change overnight, and even throughout the day, so practice safety and caution. Millions of people survive daily trips to and from a frozen lake every year, but there are also many that do not, and no fish is worth your life. Use this chart below as a reference.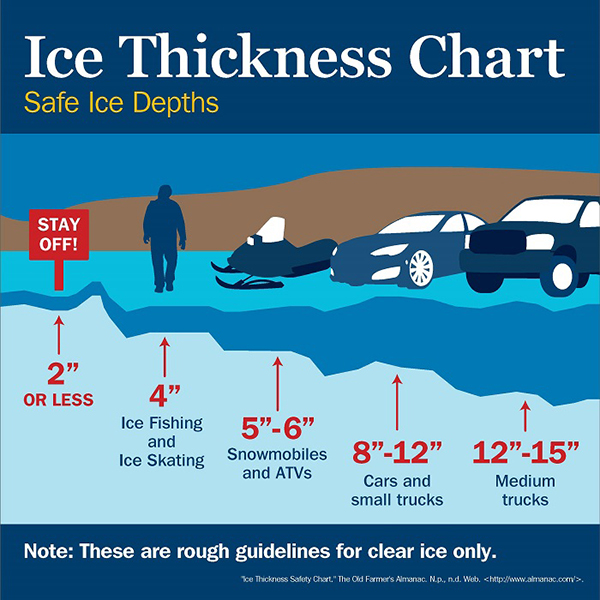 Now with the "serious" information covered, let's talk about the equipment one needs to be successful on the ice, and by successful I mean you had a good time, and want to do it again! First off, dress for the conditions. Warm, waterproof boots are a must. You will be standing on ice, for hours: never, ever skimp on your boots, or socks, and consider kids footwear is nowhere near the quality of adults. Keep plenty of the disposable hand and foot warmers in your kit, and place them in boots, tucked inside your wrist cuffs, and place a couple in an inside pocket close to the heart. You will be amazed at the difference this makes—it's one of my secrets to keeping clients comfortable. Dress in layers and avoid cotton at all costs, especially as a baselayer. This is winter dressing 101, but consider that ice fishing is much less active than skiing and climbing, unless you are the one cutting the holes…
And speaking of cutting holes, before you can fish, you have to cut a hole. While there a hundred or more choices in modern hand and power augers, making a hole in the ice can be done with a hand tool, such as a hatchet, axe, or a heavy, long-handed chisel, commonly known as a "spud bar."  For generations, this was often the most limiting factor in ice fishing: laboriously making one hole in the ice, getting sweaty while doing so, then sitting on a bucket, freezing, hoping a fish just happened to swim by your hole.
Next, how do you even know where to place that hole on a vast, frozen wasteland?  You can't see fish jumping and many visual indicators look totally different compared to summer. Plus you can't cast or boat around until you get a bite, or can you?  You see today's modern tools of augering holes in the ice allow you to drill dozens of holes, if not hundreds, in different depths until you DO find those fish. Invest in the best auger you can—I'll make some recommendations later in this article.
Rods and reels can be anything from a short spinning outfit, to a $200 species-specific custom rod-and-reel combo. Many start with a broken rod tip anywhere from 10-36", zip tying a piece of garden hose as a handle and applying the reel with electrical tape, or more zip ties. That was my first "ice-fishing rod" and it caught fish! When fishing all but the biggest fish in Montana, 6-8 pound line will suffice. Anything from a plain hook to a specific ice-fishing lure will catch a fish, using nightcrawlers, grubs, or minnows.  (Check regulations carefully for the body of water you are fishing. Montana has specific rules concerning bait.) Artificial "plastic" baits are taking the ice fishing world by storm.
And you know what?  That's really just about ALL you need to go ice fishing! Sure, there are hundreds, if not thousands of other items that can contribute to more success on the ice, but with the abovementioned items, you are well on your way. Lightweight portable shelters, heaters, ice-fishing specific sonars or "fish finders", underwater cameras and snowmobiles or ATV's to pull all that extra gear onto the ice are very common to the more experienced or hardcore ice anglers, but for someone just getting into ice fishing, it can be very inexpensive and simple.  Go that route to make sure it is something you and your family can enjoy and then begin to build your gear around the routine you most enjoy!
I am sponsored by Clam Outdoors, Vexilar (sonars) and Cabelas, as well as some other companies selling gear very specific to ice fishing and can highly recommend ANY of the gear that they sell as some of the best in the business, understand that there are at least 15-20 companies making ice fishing products.  My rule of thumb is always, "you get what you pay for"!
The following is my basic list of gear to enjoy the sport, followed by some more advanced gear that will really increase your catches and your enjoyment on the ice:
6-8" hand auger (good for ice thickness up to 12-15")
Skimmer
Bucket (to haul gear and sit on)
Ice-fishing rod and reel, in light to medium actions. Longer rods for fishing outside a shelter, 30" or less when in most shelters, spooled with 4-8# test.
An assortment of jigs and lures, from the tiniest micro ice jigs, to ¼ oz. lures.
Bait, including maggots, wax worms, nightcrawlers, and artificial.
For the more advanced angler (in order of importance):
Ice-fishing-specific sonar; I prefer Vexilar brand but Marcum, Humminbird, and Lowrance all make ice-fishing-specific units. 
Power auger: many newer electric/battery units replacing gas powered ones, but gas still rules.
Shelter-Hub style "pop up" or "flipover", which are sled-based to haul all your gear.
Tip-Ups, an ice-fishing-specific, unattended device that trips when a fish takes the bait.
Better rods: the most sensitive, species-specific rod-and-reel combos you can afford. Many times, ice-fishing "bites" are subtle and being able to feel the bite, and control the fish you are trying to land through a small hole in the ice require a more specific rod. Reels with good drags are a must to consistently land fish.
I could go on and on but these tips will get you started and make your time on the ice more productive, at least when it comes to catching fish. Good luck and good fishing! I'll see you on the water.
---
If you would like to take an "all-inclusive" guided ice fishing trip, almost anywhere in Montana, contact Mike Howe at howesfishing.com.