Fishing from Livingston to Big Timber.
While the waters east of Livingston are best left to serious and experienced anglers searching for oversized brown trout, the expansive landscape and big water—with braided channels and islands peppered with cottonwood—make the stretch of the Yellowstone from Livingston to Big Timber a favorite with guides and locals alike.
Access
Access can be more challenging for the wade angler on this stretch of water, but with seven official access sites between Mayor's Landing (Livingston) and Otter Creek (Big Timber), the lower river caters to the float fishermen in all of us. 
Flows
Much like the Gardiner-to-Livingston stretch, the lower Yellowstone's flows fluctuate from month to month and season to season; and with a greater volume, the lower river can be trickier to navigate during high water. During the epic summer of 2011, 36,500 cfs of Yellowstone River water tore its way toward the Missouri as it passed through Livingston. In average years, however, things begin to stabilize by the middle of July and the broad waters of the lower 'Stone once again become a fisherman's paradise.
When to Go
Streamer junkies may beg to differ, but you will be hard-pressed to find a guide or Yellowstone River aficionado who doesn't consider the height of hopper season—from early August until the first frosty days of September—to be the most electric time to fish the lower river. Casting oversized hoppers to gluttonous brown trout and fiery rainbows on the lower 'Stone is about as good as it gets.
Fish
While smaller numbers of Yellowstone cutthroat and a plentiful population of mountain whitefish occupy the water, this stretch is all about the browns and rainbows. Though the actual numbers aren't as impressive as they are through the "town stretch," the opportunity to hook into sturdy rainbows and hefty browns occupying the stretch from Highway 89 to Big Timber beckons guides and anglers from across the country in hopes of an explosive day with a tight line.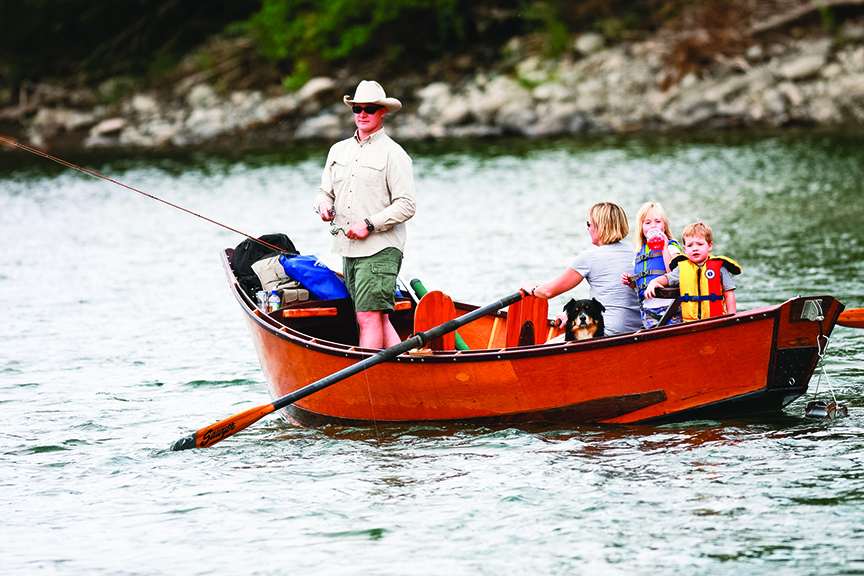 Row vs. Wade
While the lower Yellowstone provides opportunities for the serious wade angler, its size makes a day in a McKenzie River–style drift boat a fishing experience you won't forget. Fishing the lower river is more about quality than quantity. This stretch of river will provide empty-handed days that can make experienced guides and anglers scratch their head, but the reward of hooking into a 20-plus-inch brown trout in heavy water, ripping line off your reel, is what keeps anglers coming back for more.
Regulations
Compared to some other area rivers, regulations on the Yellowstone are simple and straightforward. All cutthroats must be released—if it has a slash, put it back. As far as warm-water species go, the limit for smallmouth bass is 10 daily while the sauger/walleye limit is five daily, and only one can be a sauger. 
Getting There
Head east on I-90 over Bozeman Pass to Livingston. Six major access sites (Highway 89, Sheep Mountain, Pig Farm, Springdale, Grey Bear, and Otter Creek) can be found off the 37 miles of highway between Livingston and Big Timber. With three of the most well-known fly shops in the region—Dan Bailey's, Yellowstone Angler, and Sweetwater Fly Shop—all on Livingston's main drag (Hwy. 89 / Park St.), poor bug selection is no excuse for a day of getting skunked on the lower 'Stone.
Hot Spots
Two of the most popular floats are Pig Farm (off the Mission Creek Road) to Springdale and Springdale to Grey Bear. Both floats present big water that can be intimidating and difficult to read, so it's important to break things down as much as possible while focusing on the softer water along the banks and seams. For wade anglers, the "town stretch" between Carter Bridge and Mayor's Landing provides bountiful opportunities for anglers to pursue big fish within city limits.
---
Michael Leach is a fishing guide and educator who has fished the Greater Yellowstone area for over two decades.